Last updated December 31, 2022.
An assortment of DeArmond music products' cartons: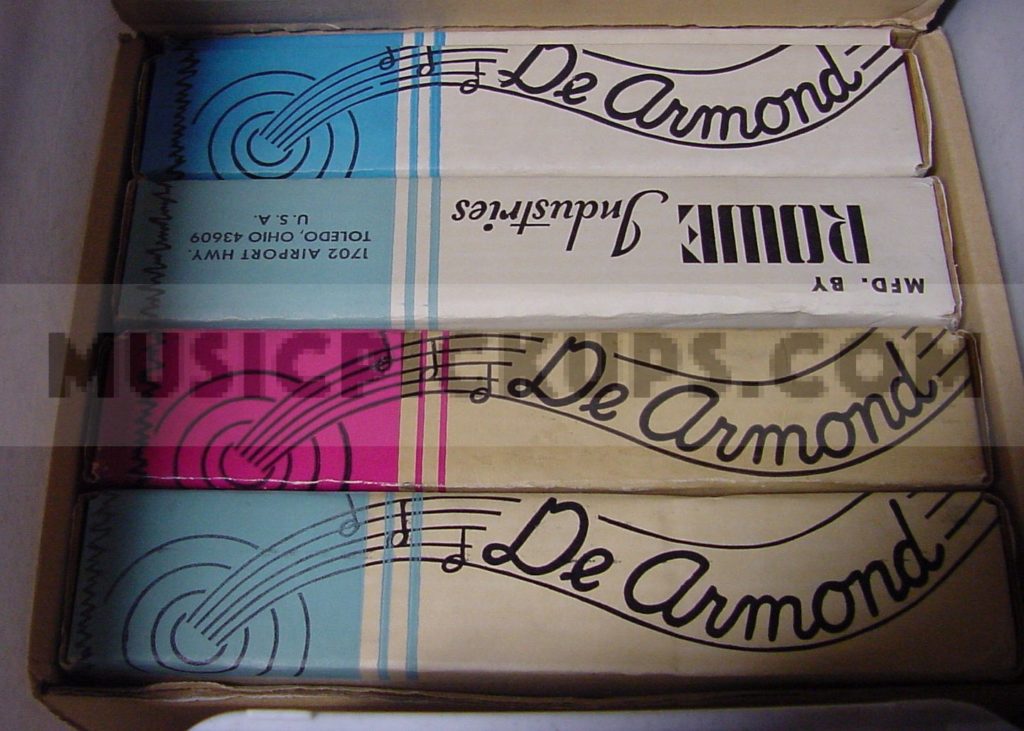 All products were supplied in individual cartons with Instructions Sheet, Guarantee Card, a Form to request DeArmond catalogs, and, in the case of several products, including the Volume pedal Model 600, a separate lead.  Until about 1959, when company catalogs were produced in a larger format,  a fold-in products leaflet was also included in every carton.
Rowe Industries' products' packaging changed several times over the years.
When the premises were located in 3120 Monroe Street, the cartons were black, with a yellow adhesive label on which the product reference was rubber-stamped.  As only four pickups were initially produced, one size oblong carton was sufficient.
This black box's printed yellow label includes 'guitar microphone' and shows the rubber-stamped product reference with the company's first address – 3120 Monroe Street, Toledo.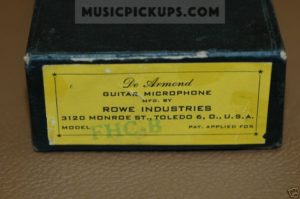 This box's printed label includes 'violin microphone' and shows the faint rubber-stamped product reference with the company's second address address – 1702 Wayne Street, Toledo, dating it to 1946 earliest.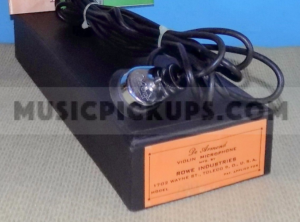 The second carton design was finished in silver, with all text, including the individual product's name, printed in red.  It measured 10.75″ x 3.75″ x 1.75″ deep  (275 x 94 x 44 mm.).  Note the new logo's distinctive lettering and the artwork, showing the stave flowing out from what could be a loudspeaker, with minims on the stave: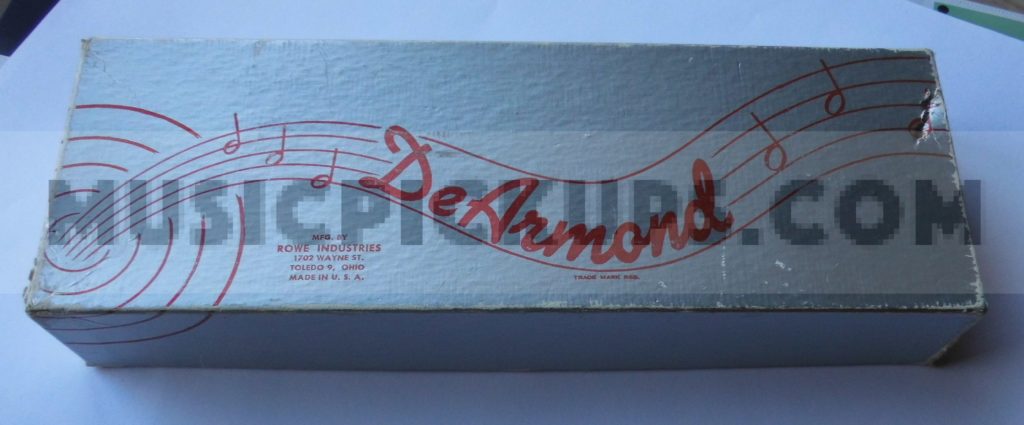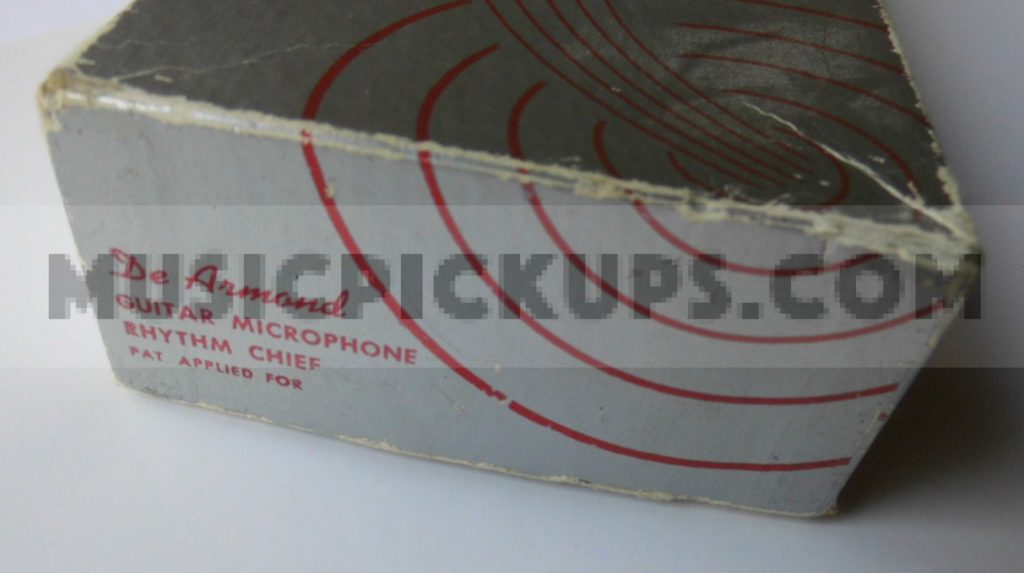 This carton, for the Model 60 B Tremolo, shows 'DeArmond' in a variant of Copper Plate Script, based on Harry's own handwriting.  The colors used are duck egg blue and black.  The carton is designed to fold out, displaying the product.  This 'fold-out' idea was used with many other product cartons.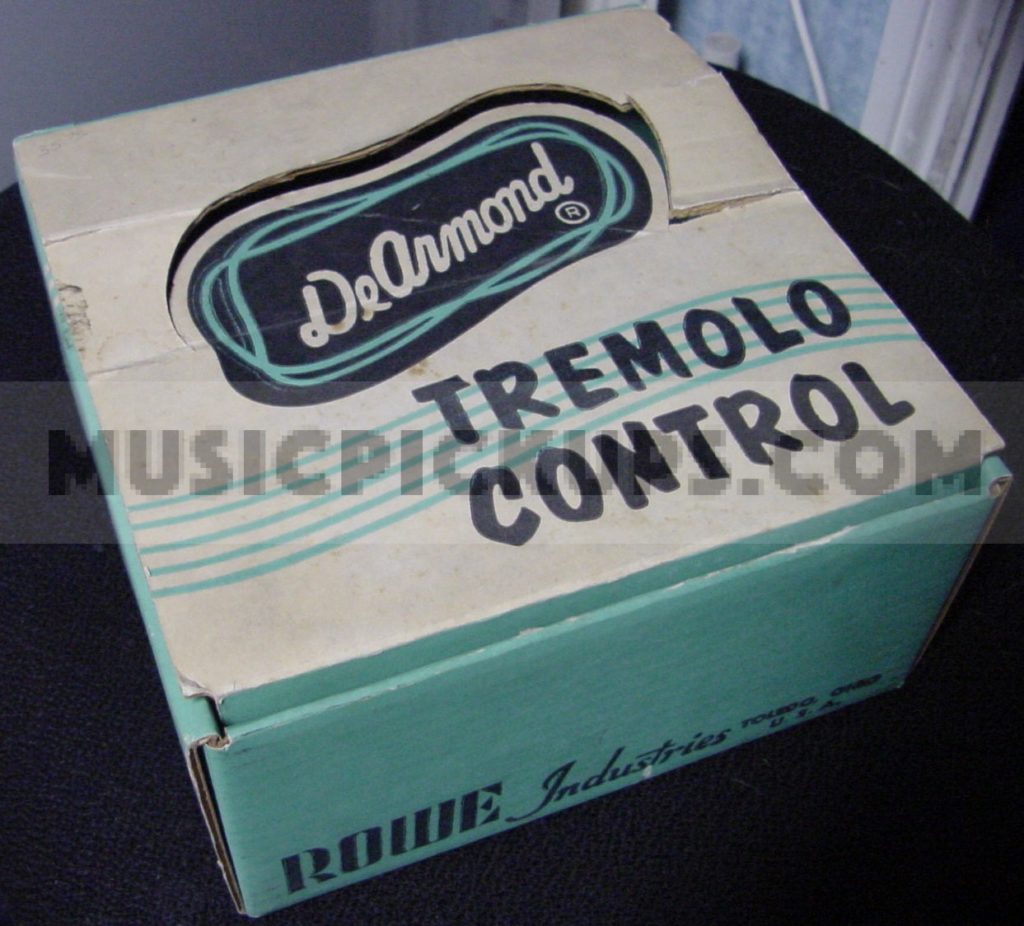 The duck egg blue & white Rowe Industries box for the Model 900 Bass Viol Pickup with the Airport Highway address is marked on the bottom with an 'M' logo and underneath with: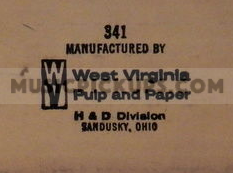 The Menasha corrugated box factory in Medina was opened in 1963 and supplied boxes for several DeArmond products.  Unfortunately the facility burnt down in an accidental fire in 1964. That factory was not rebuilt and the production was moved elsewhere.
Note the brown cardboard boxes for a set of Model 2200 pickups, boxed separately: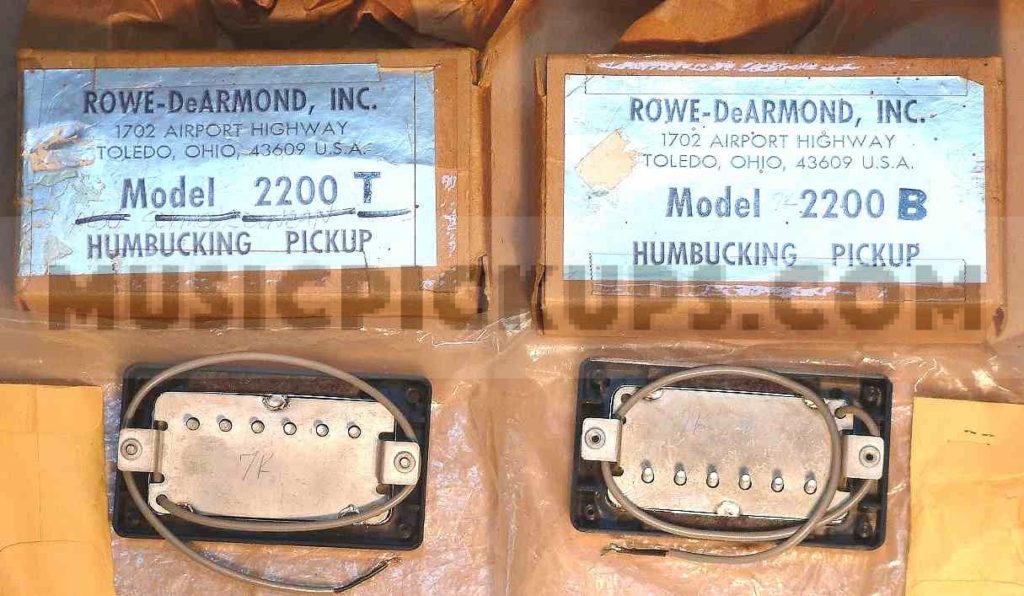 This dark brown woodgrain-printed Rowe DeArmond box with a transparent front panel and the Airport Highway address stamped has no printer's markings and has an extended perforated top fold to enable the box to be hung on a wire display stand.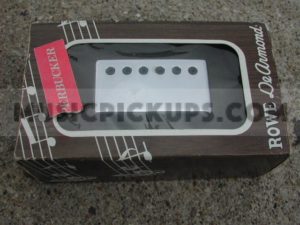 This box, here with the Airport Highway address, measuring measuring 6.25″ x 6.25″ x 3.25″ deep (160 x 160 x 83 mm.) was used for several other products: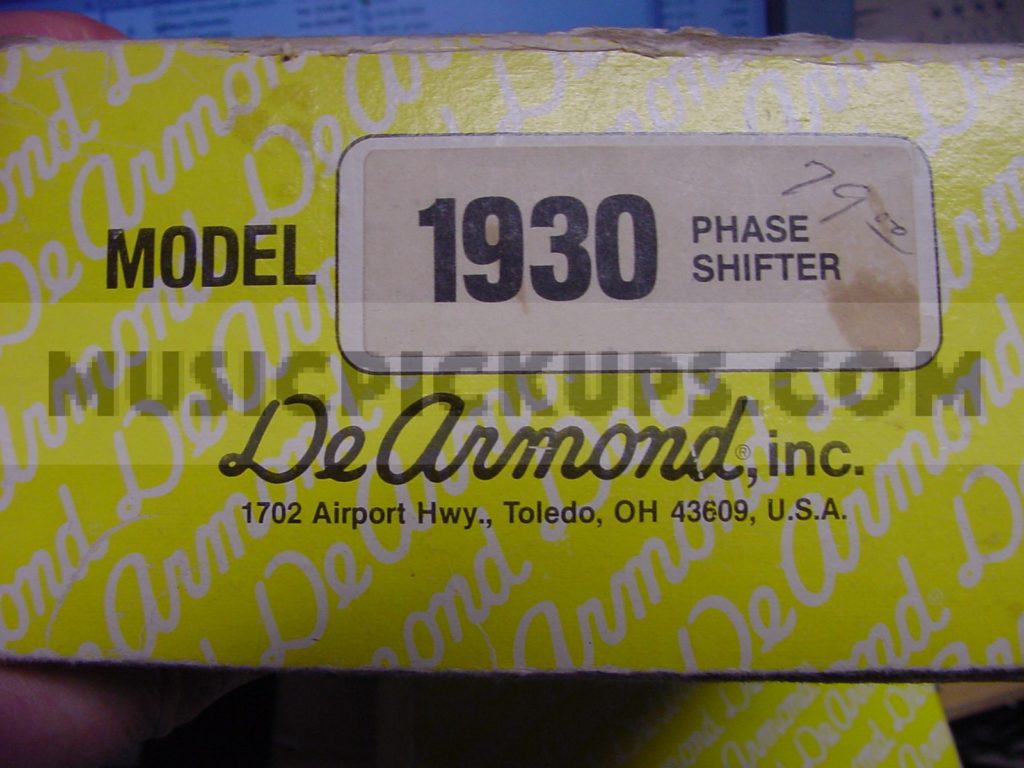 Below, another later example of the yellow and white box with the Haskins Road, Bowling Green address and an applied adhesive label for the Model 130:
A Plain white corrugated cardboard carton with an applied adhesive yellow label for effects footpedals.
­­­­­­­­­­­­­­