This page last updated February 11, 2022.
CMI – Chicago Musical Instruments – at one time produced more instruments than all of their American competitors combined, mainly under the Harmony brand but also under Airline, Alden, Barclay, Heathkit, Holiday, Regal, Silvertone, Truetone and some other names.
The range of pickups supplied to Harmony by DeArmond was correspondingly wide.  Some pickups were used on a number of different instruments, but some others were used on one instrument only.
Harmony instruments shown below include:
Basses: Total 7: H22, H22/1, H25, H27, H420, H425 and H426.
Mandolins: Total 2: H35 and H835, Harmony Baroque Electric Mandolin
Banjos: Total 2: H82 'Electro' 4-string Electric Tenor Banjo, 1956, w one plain Hershey Bar woodscrew-fixed pickup.  (NOTE: H82 was later assigned to the Harmony Rebel twin-pickup guitar); H282 'Electro' 5-string Electric Tenor Banjo.
Guitars: H1 Roy Smeck lap Steel, Hi4 Bobkat, H15 Bobkat, H16B Blue Kolor Kat, H16R Red Kolor Kat, H16W White Kolor Kat, H16B Black Kolor Kat, H19 Silhouette, H39 Hollywood, H41 Hollywood, H44 Stratotone, H45 Stratotone, H46 Stratotone, H47 Mercury Stratotone, H48 Stratotone, H49 Stratotone Jupiter, H53, H54 Rocket II, H56 Rocket, H59 Rocket, 1970 Harmony H59/1 3-pickup Rocket, H60 Left-handed Meteor, H61, H64, H66 Vibra Jet, H70 Meteor, H70 Meteor LH, H72V, H73 Roy Smeck, H74, H75, H79 12-string (two examples), H81 Rebel, H82 Rebel, H82G Rebel Greenburst, H88 Stratotone, H601 Lap Steel, H655 Sovereign, H661, H671, H1324
Basic 'Hershey Bar' type bar pickup: The basic chrome soapbar guitar pickup, also referred to as the 'Hershey Bar' pickup, for surface-mounting onto a pickguard by means of solid rivets, or for recessing into the guitar's body, by means of woodscrews.  This particular model has hollow rivets which are used to secure the pickup to the body of the instrument with woodscrews.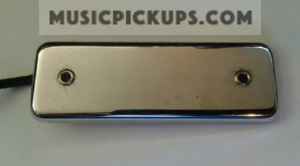 Chrome bar pickup, plain, with hollow rivets, surface-mounting.  Woodscrew-fixed to guitar body directly or through timber base.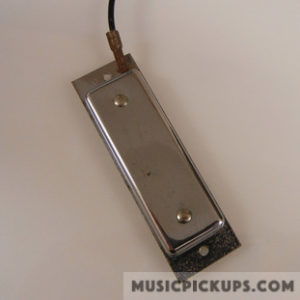 This is the basic chrome soapbar pickup with an extended bottom plate, for recessing in a pickguard or surface-mounting.  It is either riveted-fixed or, if the holes in the tabs are threaded, is adjustable (Photo copyright Guitar Parts Cave).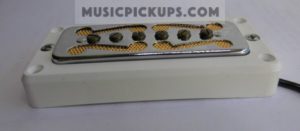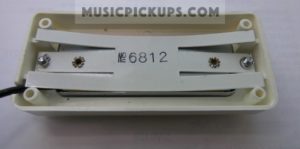 Four-scroll soapbar in a white plastic bezel, also known as the Model 6812.  The stamped number seen on the underside of the pickup appears on most of the existing examples of this pickup, but not in any DeArmond or Harmony literature.  The bezel comes in at least three different heights, with either a concave or flat bottom (see photo at left above).  This pickup is not recessed, although its appearance indicates otherwise.  A black version of this bezel is fitted to the S-grille pickup in Harmony's electric archtop F-hole mandolin
Model H35
.
Two-scroll types: The 'two-scroll' pickup, also known as the 'moustache-grille' and described in Harmony's literature as 'The Deluxe adjustable' pickup has the dimensional appearance of a recessed humbucker with black plastic mounting rings, but is in fact a single-coil surface-mounting pickup.  The coil is centred on the pole-pieces and timber packing is inserted to fill the otherwise empty space.  See lower side of upturned pickup.This pickup is finished in chrome with a gold metallic foil insert.  There are two versions of this two-scroll pickup.  One with six adjustable poles was fitted to Harmony guitars models H60, H60LH, H64, H72, H72V and H671.
Another version of the two-scroll pickup with no visible poles was fitted to Harmony guitar model H68.  The black bezels shown in the three photos above were also supplied with DeArmond's first retro-fit humbucker, the Models 2200B and T.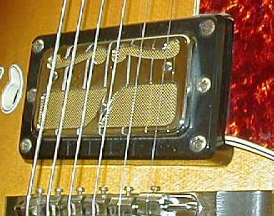 Other guitar pickups: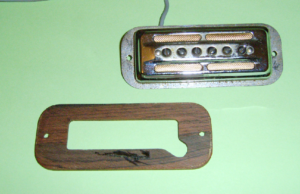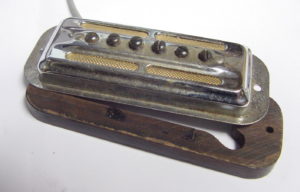 This pickup was fitted to the Harmony guitar models H75, H76, H77 and H78.  The pickup was available in one height only.  To maintain the same distance between each pickup and the strings, each pickup was mounted on a rosewood base of a different height, as shown.  This base was also used where a pickup with a flat base, as that shown, was fitted in an archtop guitar.  The upper side of the timber base is flat to fit the pickup, but the underside is precisely contoured to fit that specific archtop's contoured surface.
Mandolin pickup: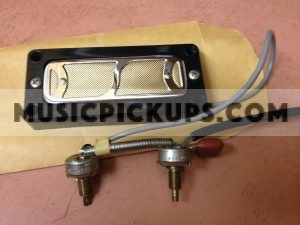 This pickup was fitted in Harmony mandolins H35 and H835.  It is an S-grille soapbar with a black version of the white bezel used on many other Harmony pickups (B0273).
Harmony Bass pickups:
The pickups fitted in Harmony basses were also used in some other basses produced by CMI, including Barclay and Holiday.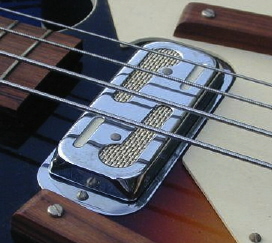 1. The Harmony single cutaway bass model H22/1 and twin cutaway bass model H22 with the white 'Batwing' pickguard were both fitted with this chrome pickup shown below with an integral bezel and   two gold and two white inserts (photo copyright Icecoach22).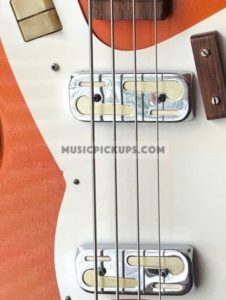 2. Unidentified Barclay bass similar to Harmony H25 bass.  This Barclay Bass  was fitted with two soapbar versions of pickups installed in Harmony H22 and H22/1 Basses.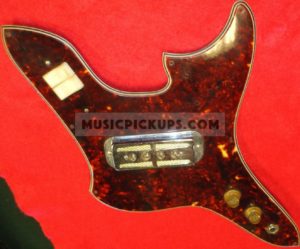 3. Fitted pickguard from single-pickup version of Harmony H426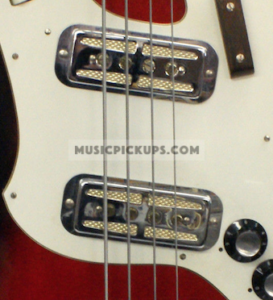 4. Two same-height 4-Vee pickups in 1972 Harmony H426 Silhouette Bass, 1972-1973.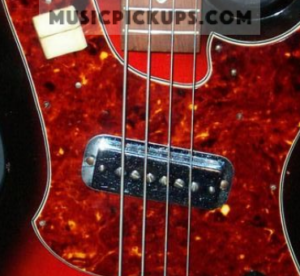 5. 6-pole adjustable pickup in Harmony Bass H25 (1966-1971)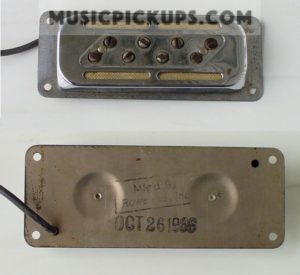 6. Single-coil Pickup fitted in Harmony H420 and H27 Basses.  Both pickups are the same height (B0159)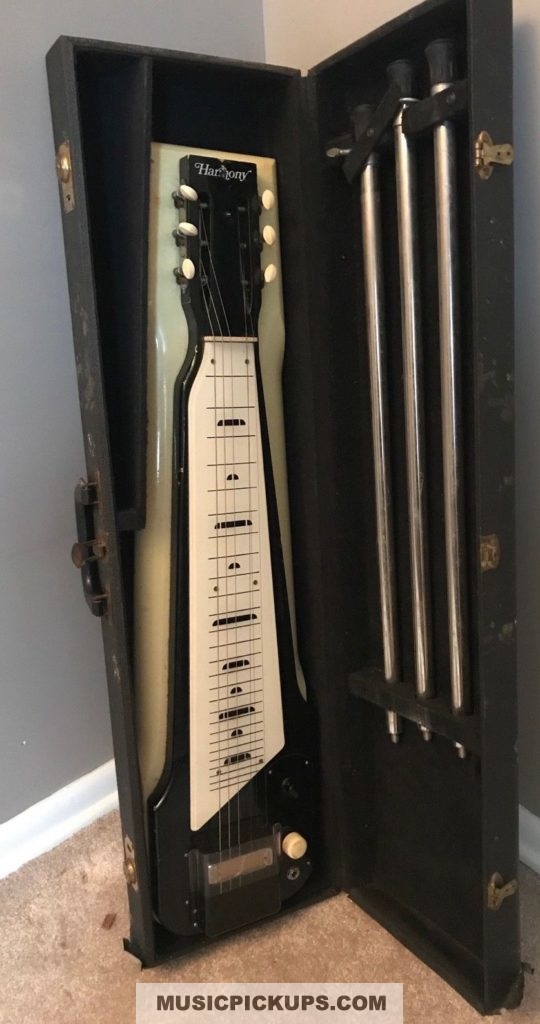 Harmony H1 Roy Smeck Lap Steel with one S-grille soapbar pickup (B0608, copyright Leatherstuff.com).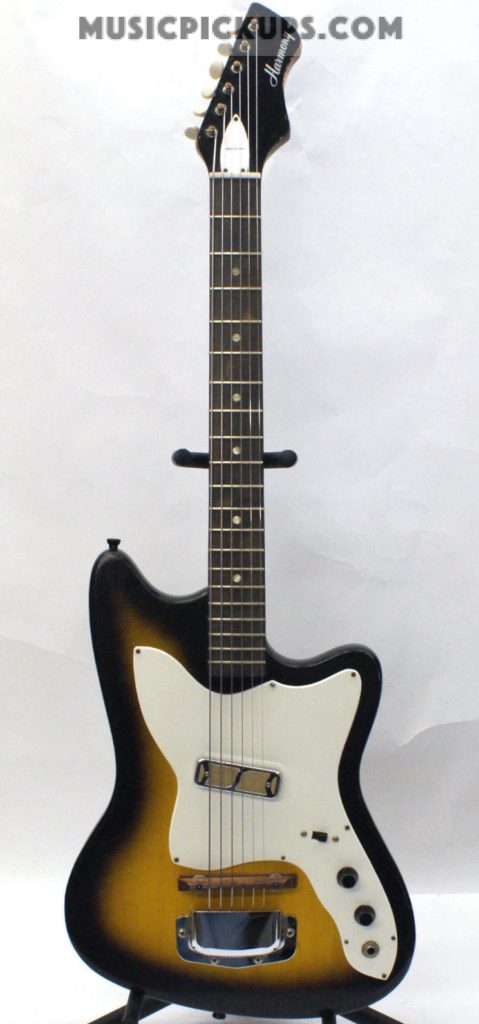 Harmony H14 Bobkat, 1966 (B0329)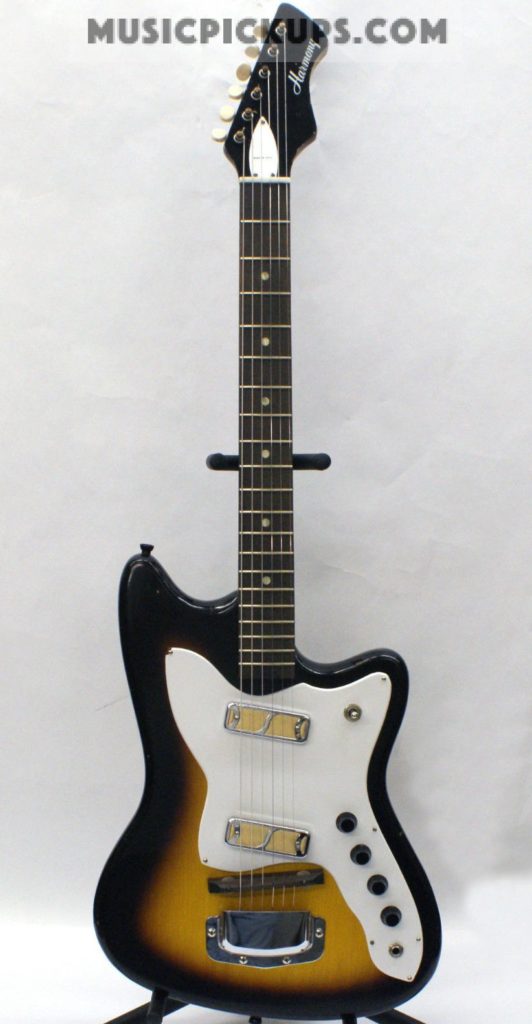 Harmony H15 Bobkat, 1964 (B0328)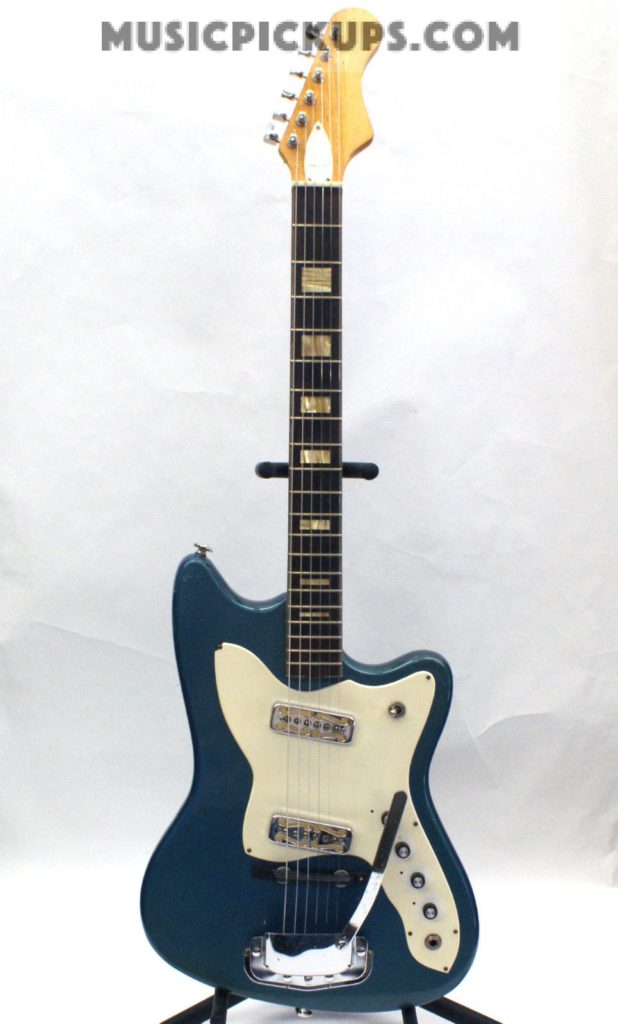 Harmony H-16B, blue Kolor Kat 1972 (B0341)
Harmony H16-R, red Kolor Kat (Photo courtesy Mike & Mike's Guitar Bar, Seattle, WA. B0360)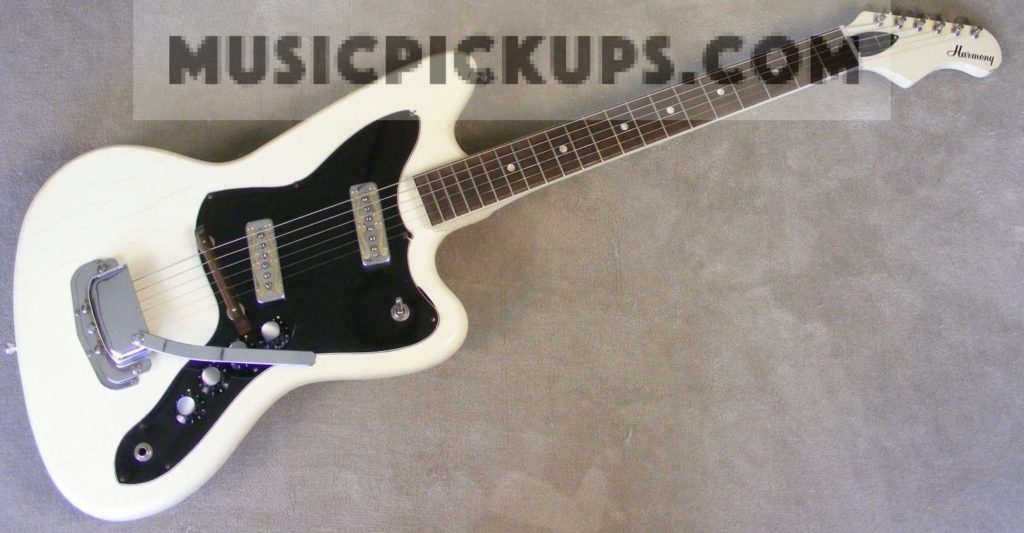 Harmony H16-W, white Kolor Kat (B0356)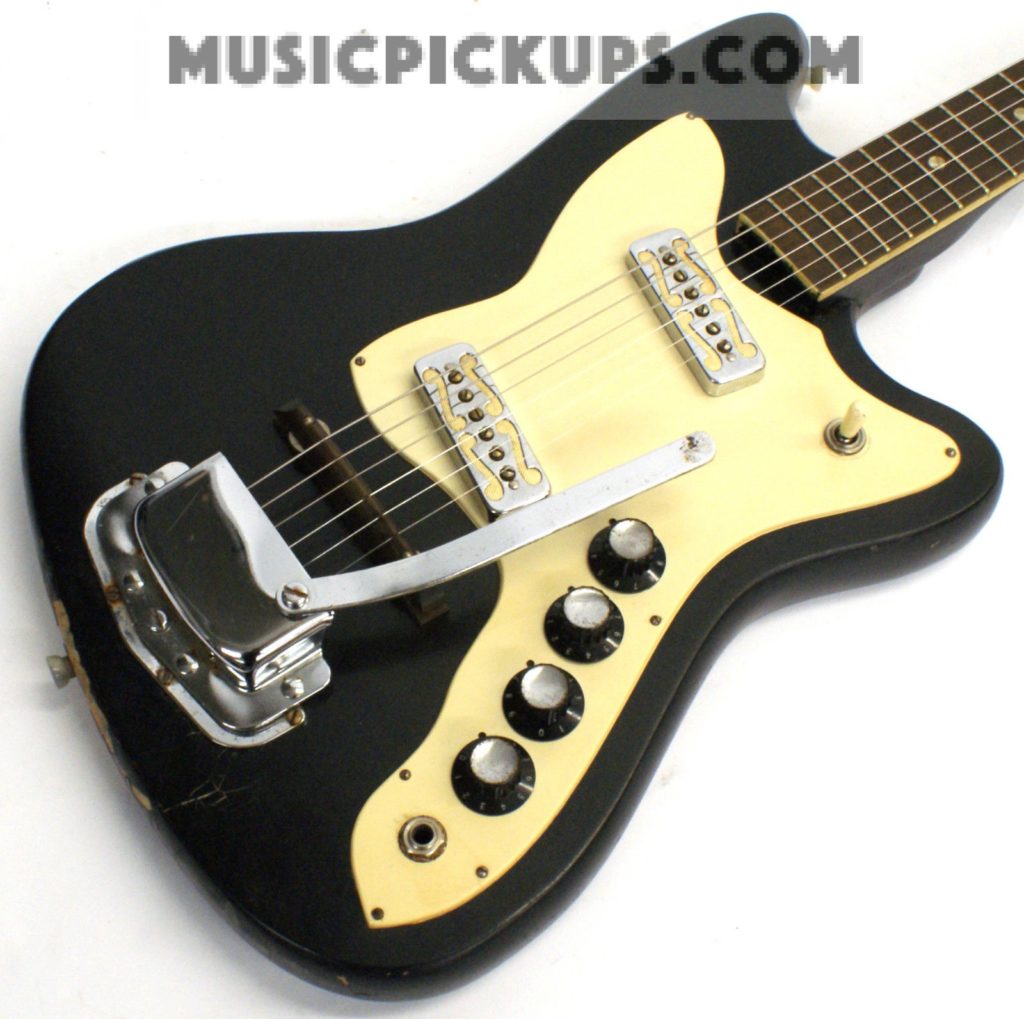 Harmony H16-B, Black Kolor Kat (B0493)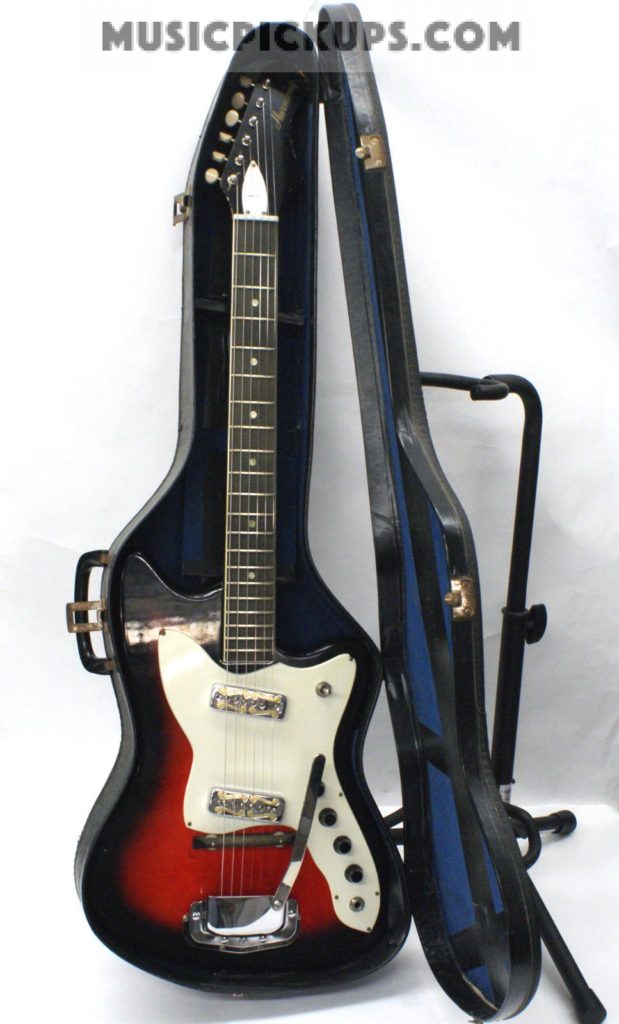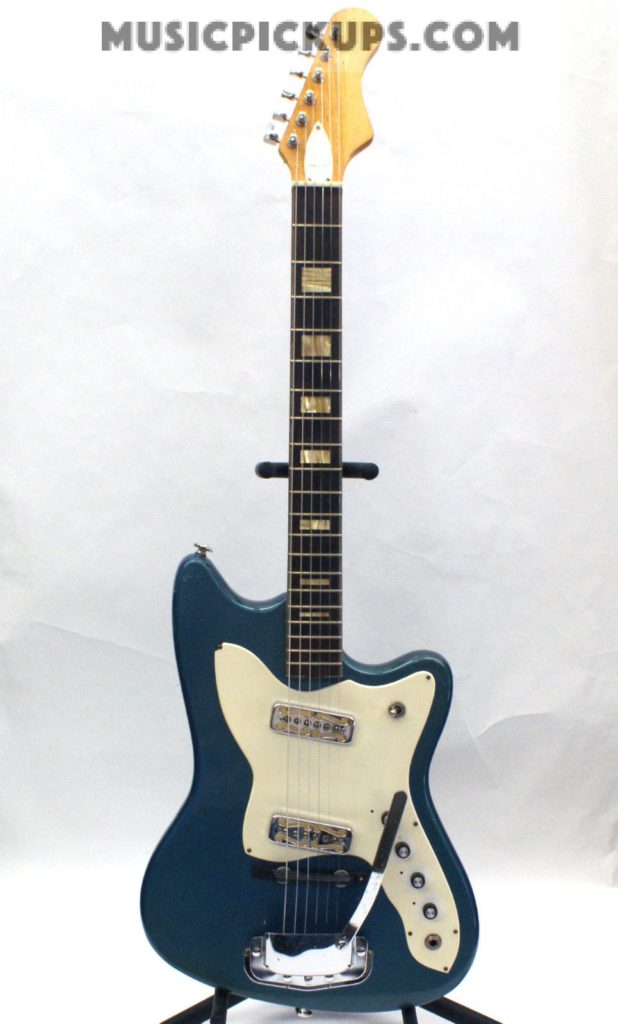 Harmony H17 Bobkat, 1966 (B0342)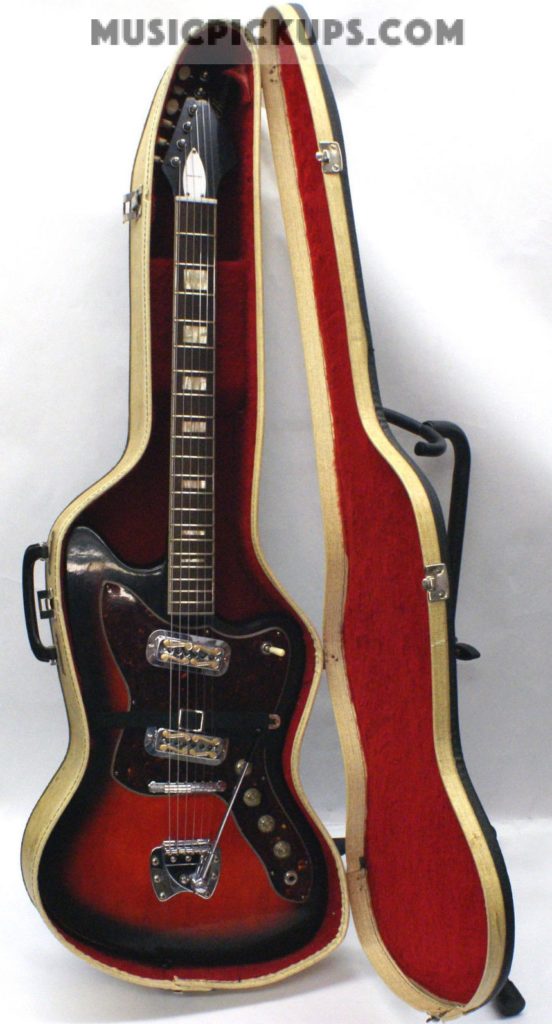 Harmony H19 Silhouette, 1960s (B0329)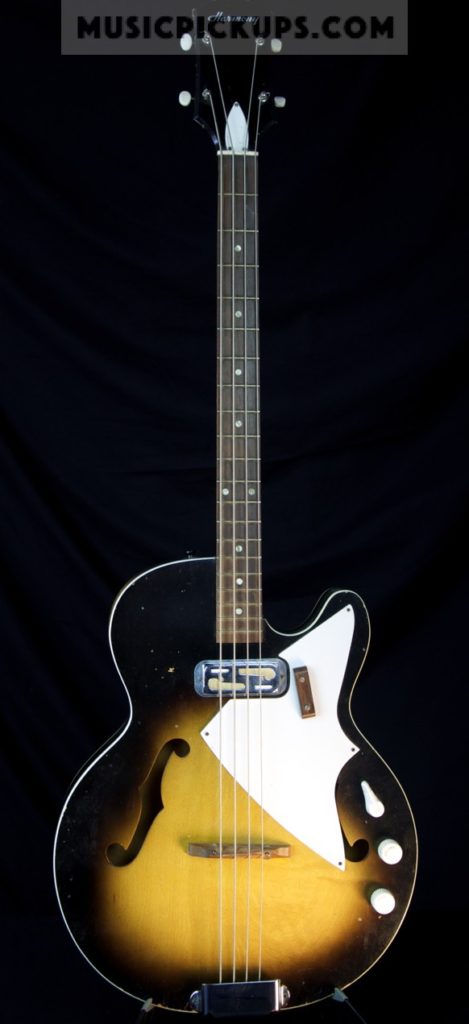 Harmony H22 Bass, single cutaway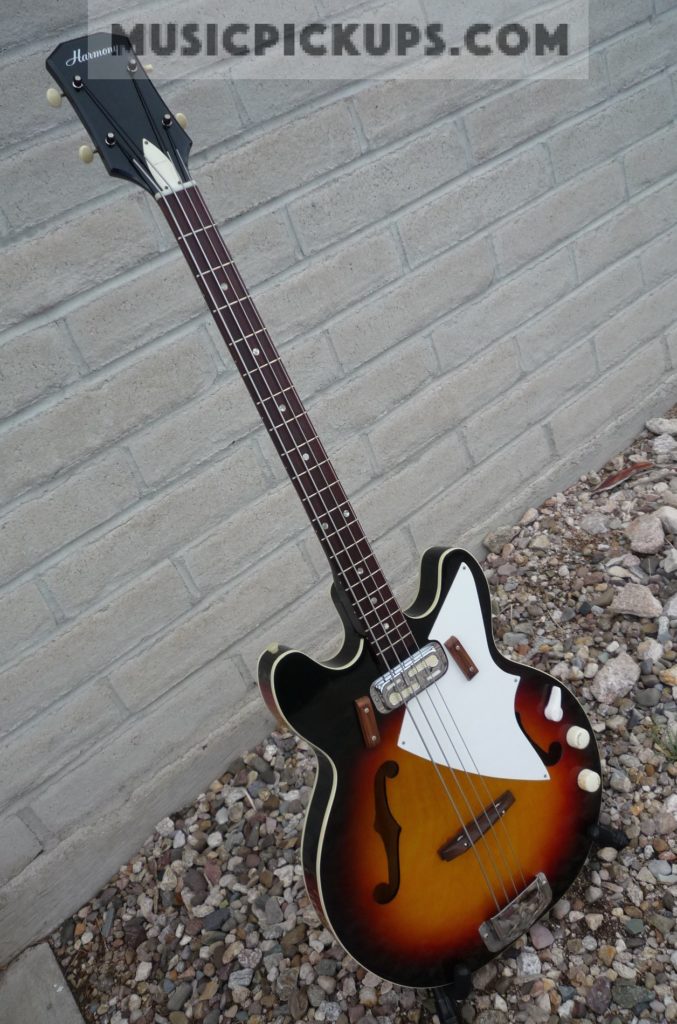 Harmony H22/2 Bass, twin cutaway (B0226)

Harmony H25,  1970 (see also H420 bass)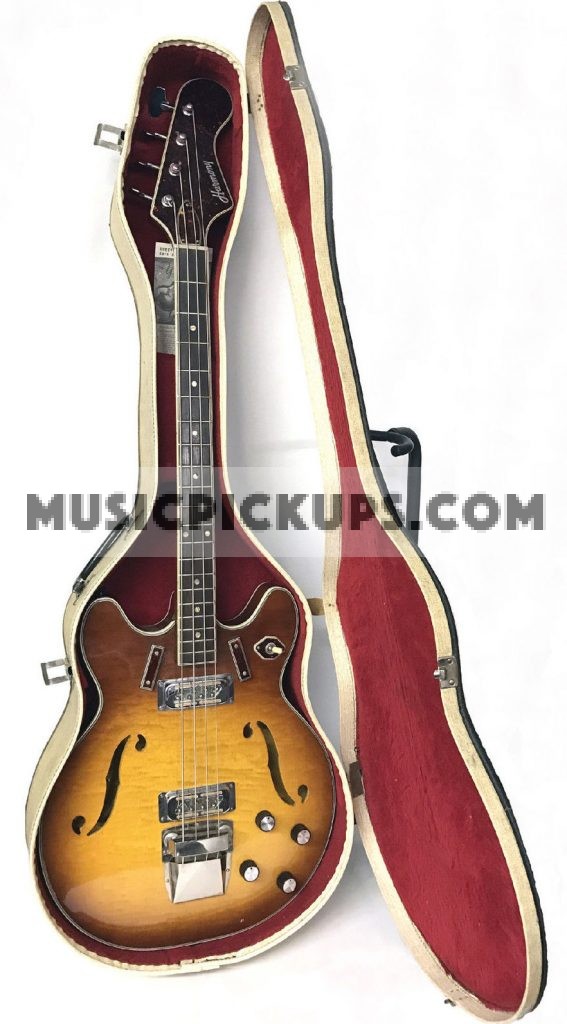 Harmony H27 Bass, 1967 (BK3-B0514).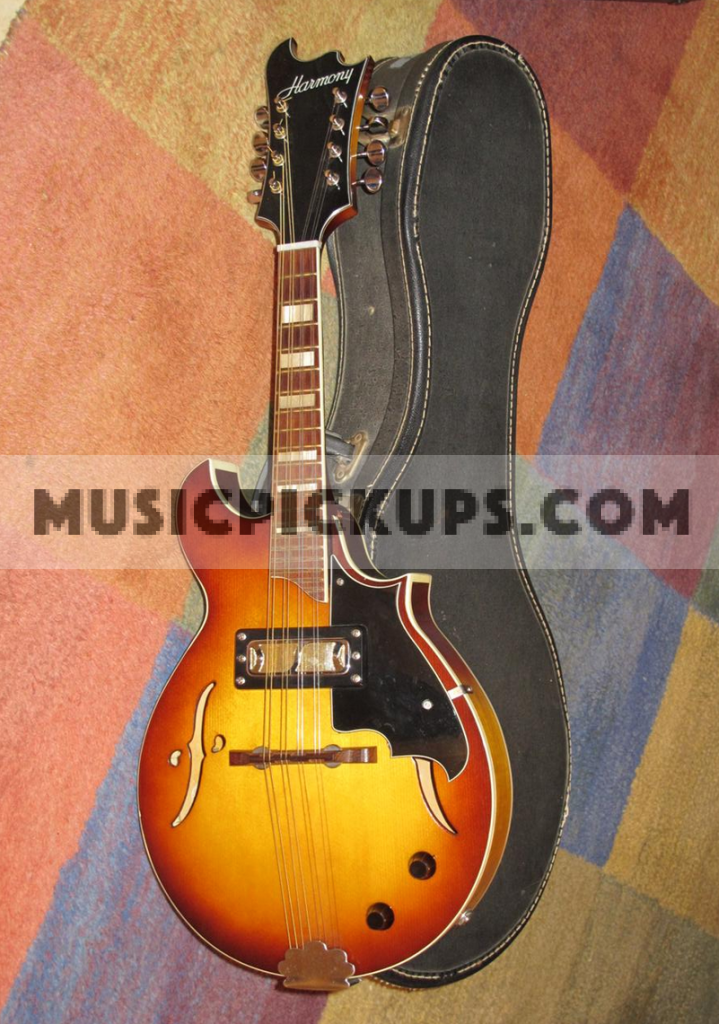 Harmony H35, mandolin (B0273)
Harmony Hollywood H39, 1960 (B0219)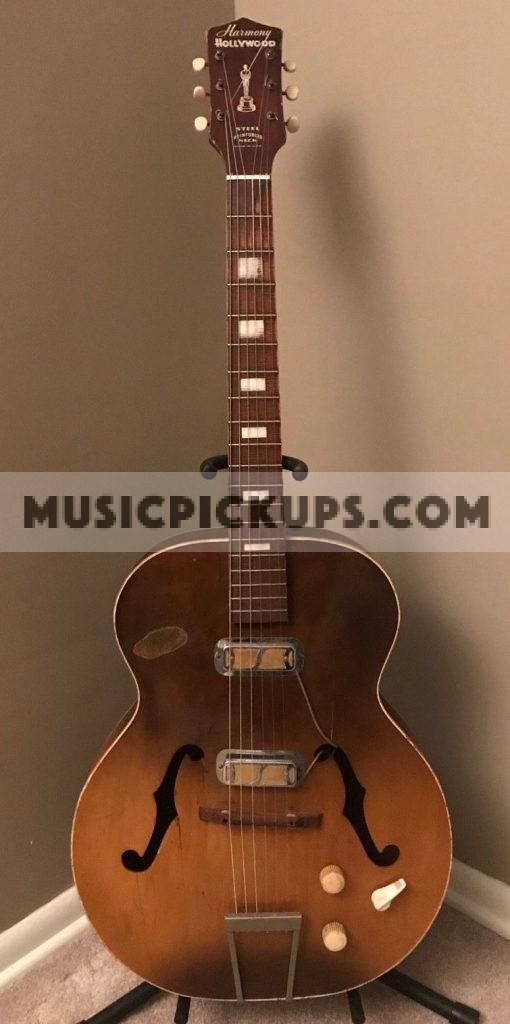 1966 harmony H41 Hollywood (B0584 photos copyright leatherstuff.com)

Harmony H44 Stratotone, 1956 , produced from 1954 to 1957 (photo copyright Mike and Mike's Guitar Bar, Seattle, WA.  B0372)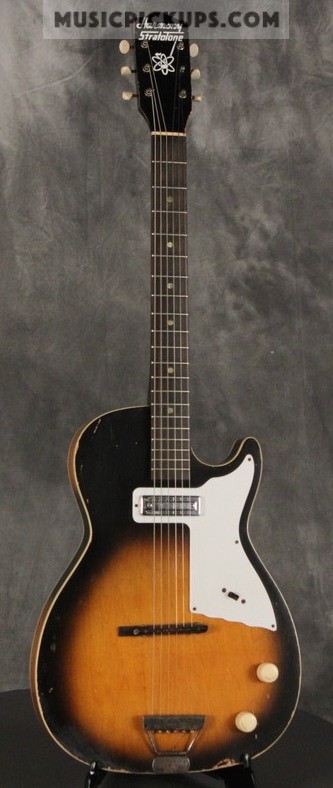 Harmony H45 Stratotone, 1960s (B0257)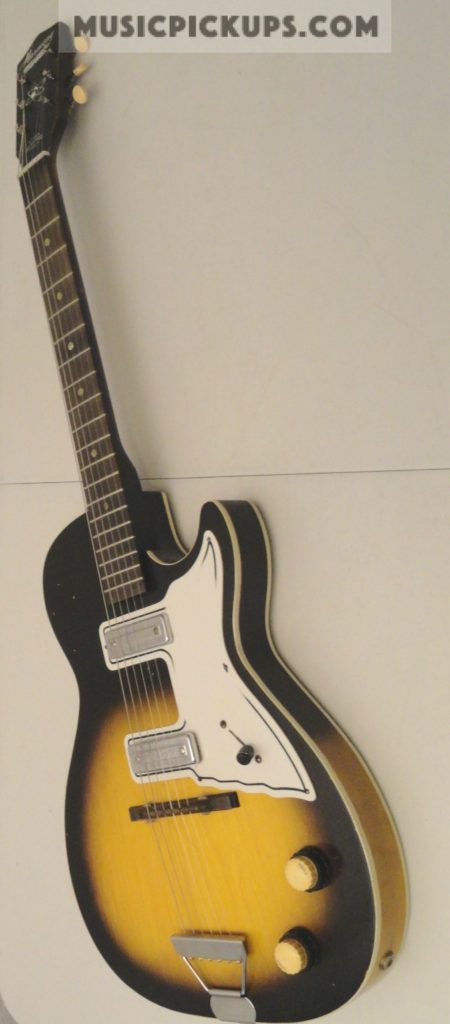 Harmony H46 Stratotone, 1960s ((B0231)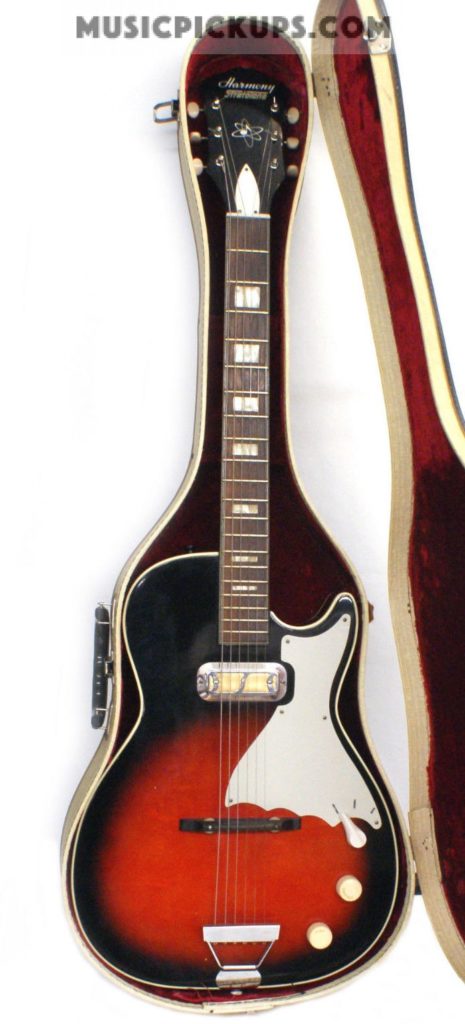 1961 Harmony H47 Mercury Stratotone (B0498)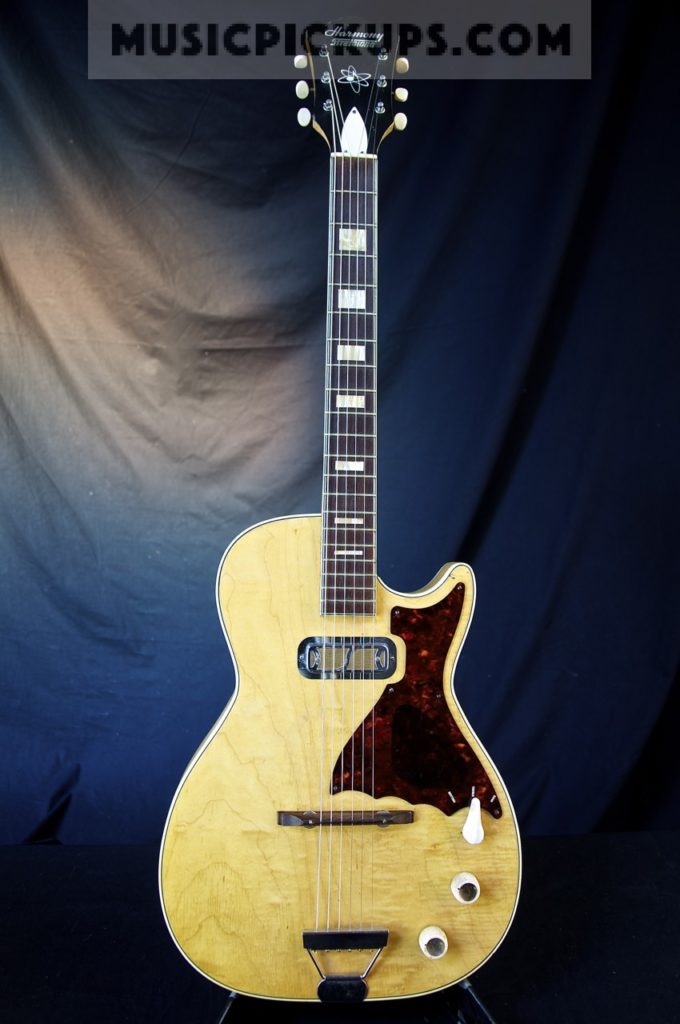 Harmony H48 Stratotone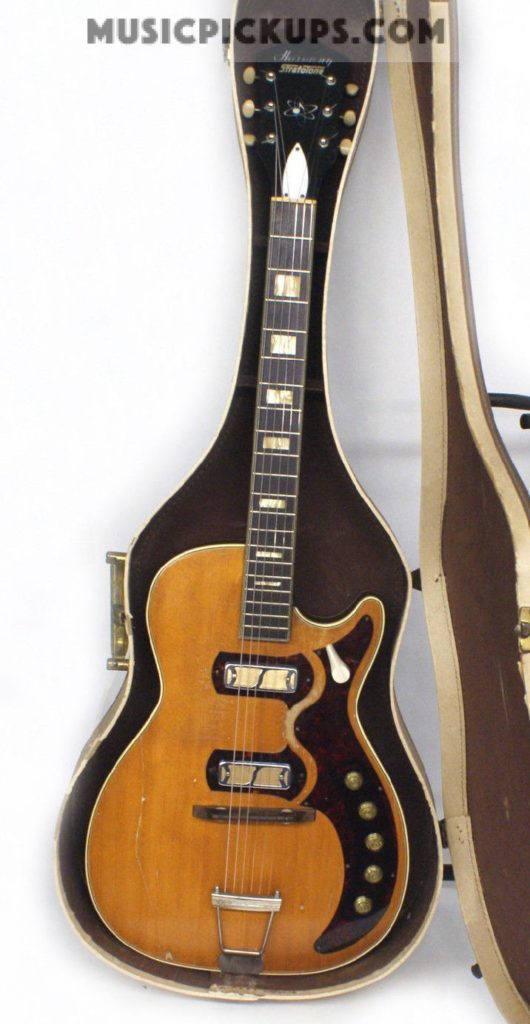 Harmony H-49 Jupiter, 1960, Blonde (B0517)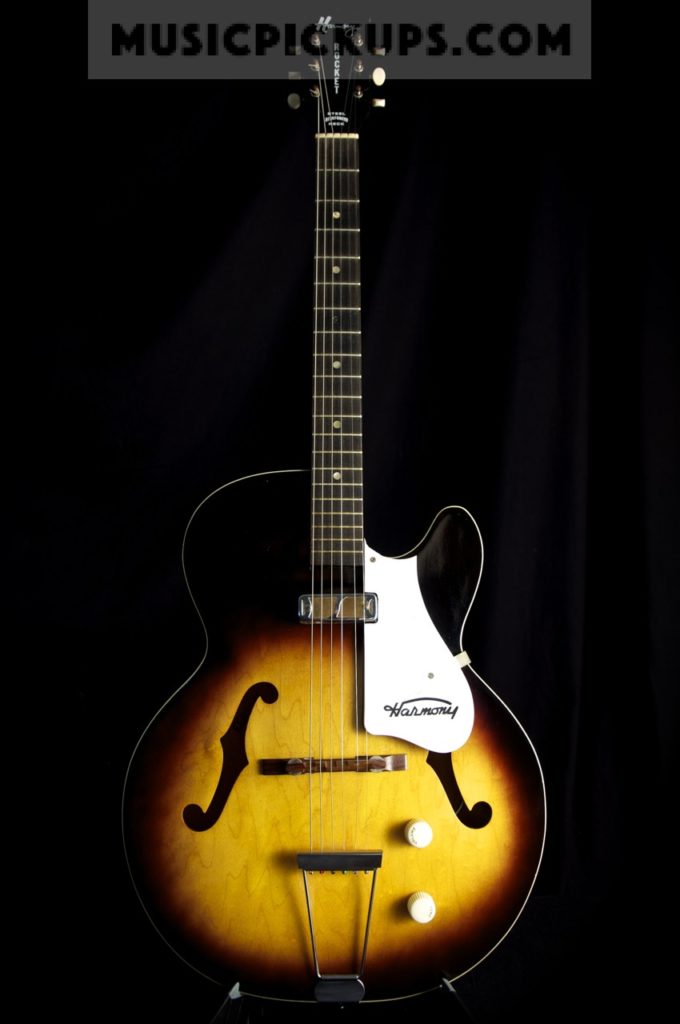 Harmony H53 Rocket I (B0196)
Harmony H54 Rocket II (B0207)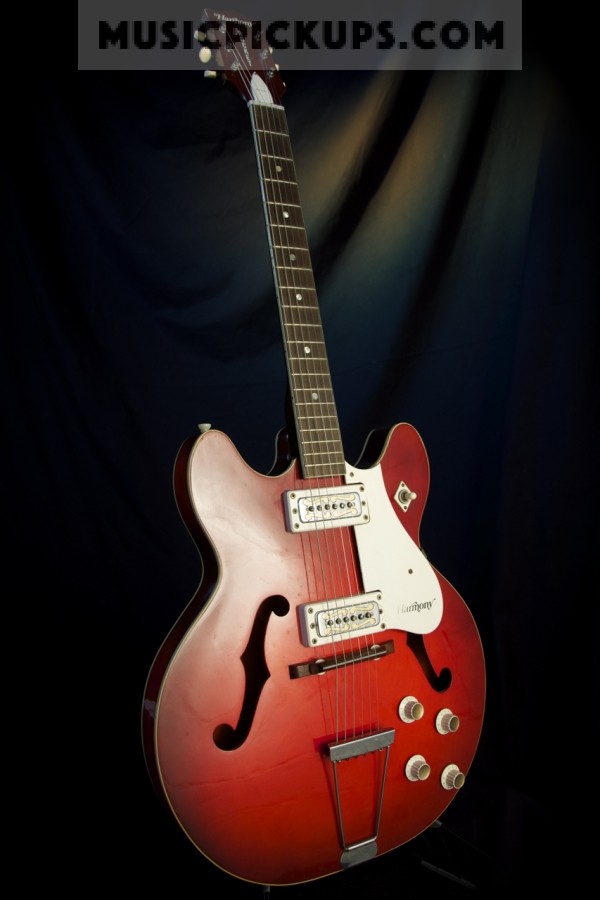 Harmony Rocket II, H54 (B0242)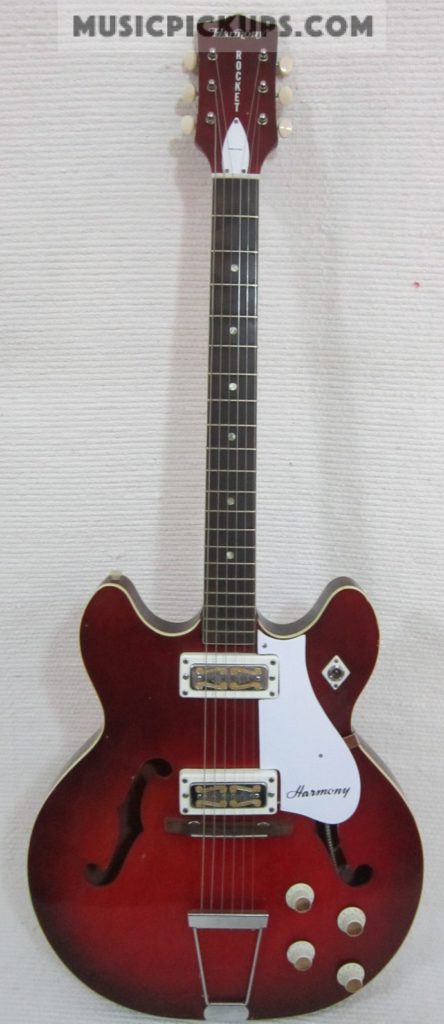 Harmony Rocket H56, 1970s (B0220)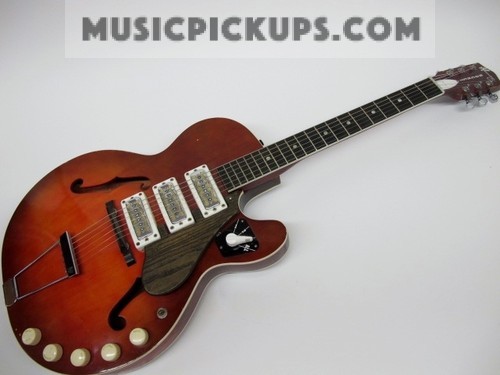 Harmony H59 Rocket (B0185)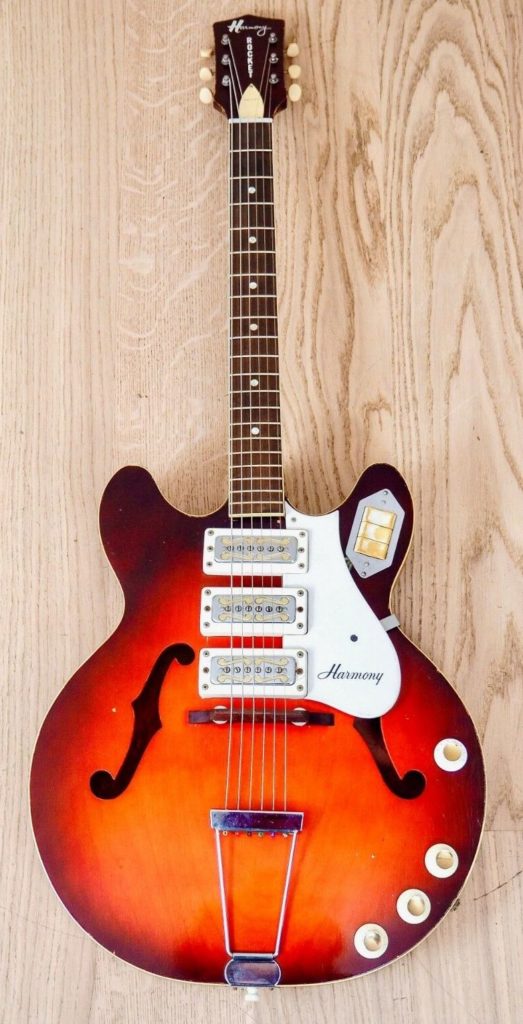 1970 Harmony H59/1 3-pickup Rocket with rocker switches (B0606 Photo courtesy Mike and Mike's Guitar Bar, Seattle WA, USA).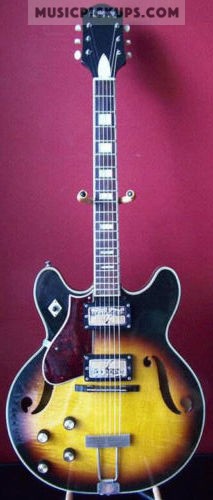 1960's Harmony Meteor H-60, Left Handed, 1960s (B0380)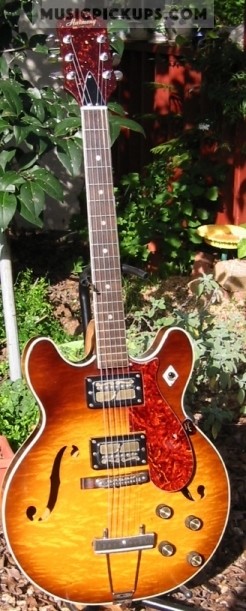 Harmony H61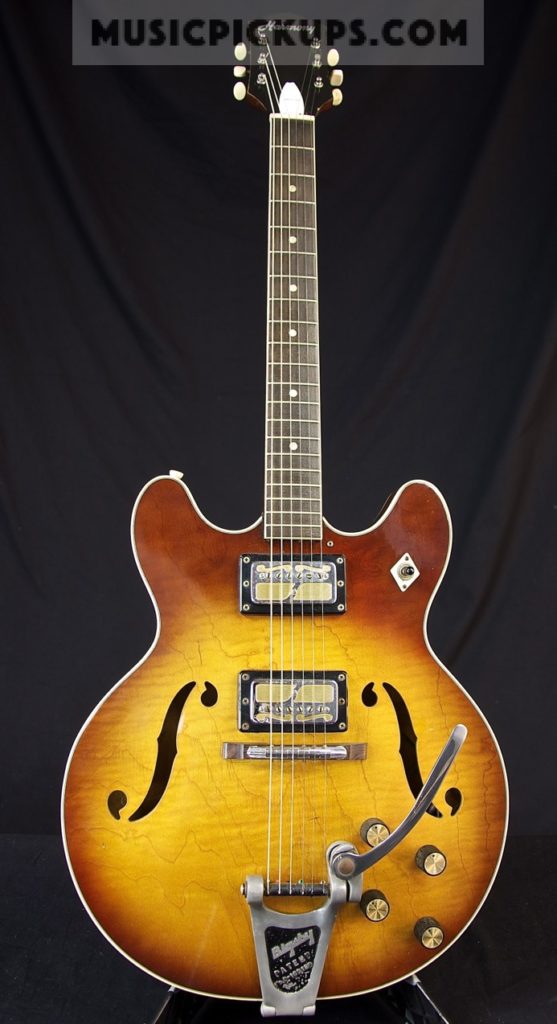 Harmony H64 (B0244)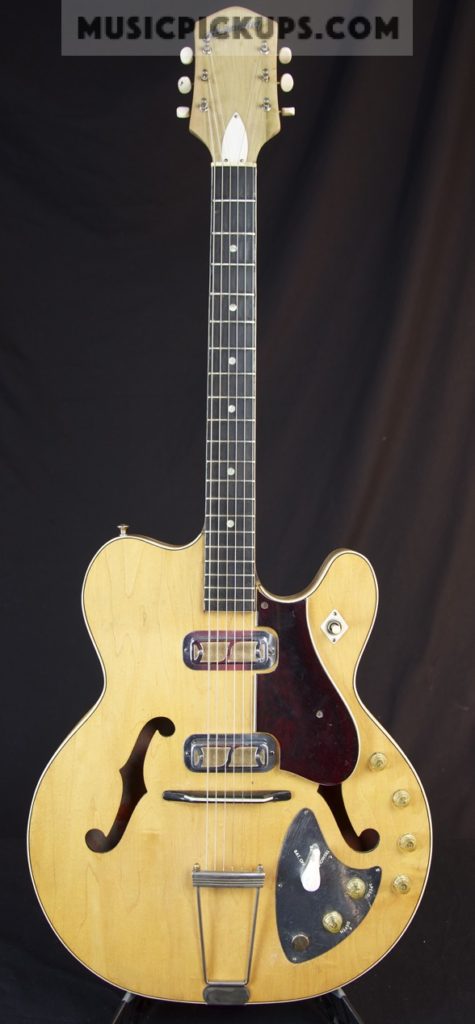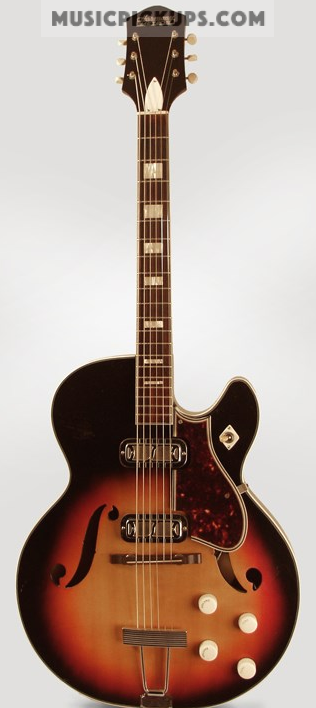 Harmony Meteor H70, 1959
1960 Harmony Meteor LH H70 (B0648 copyright Doug Youland for Willie's American Guitars, www.williesguitars.com)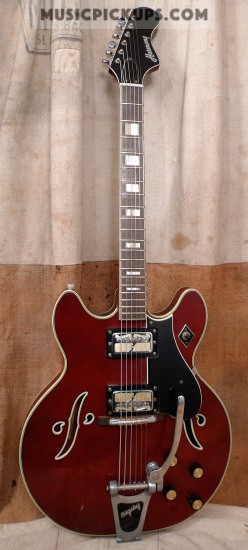 Harmony H72V (B0165)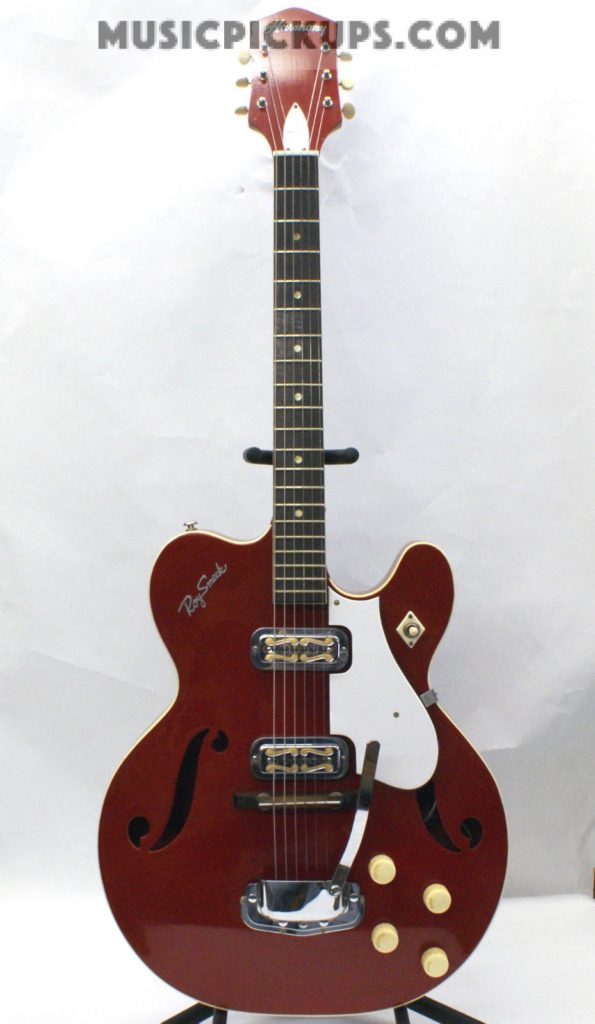 Harmony H73, Roy Smeck Archtop, 1966 (B0343)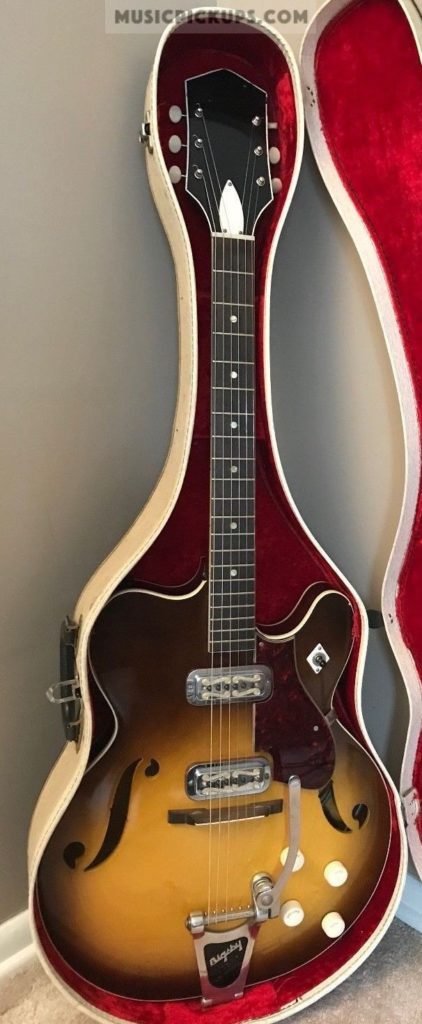 Harmony H74, 1965 (photo copyright leatherstuff.com)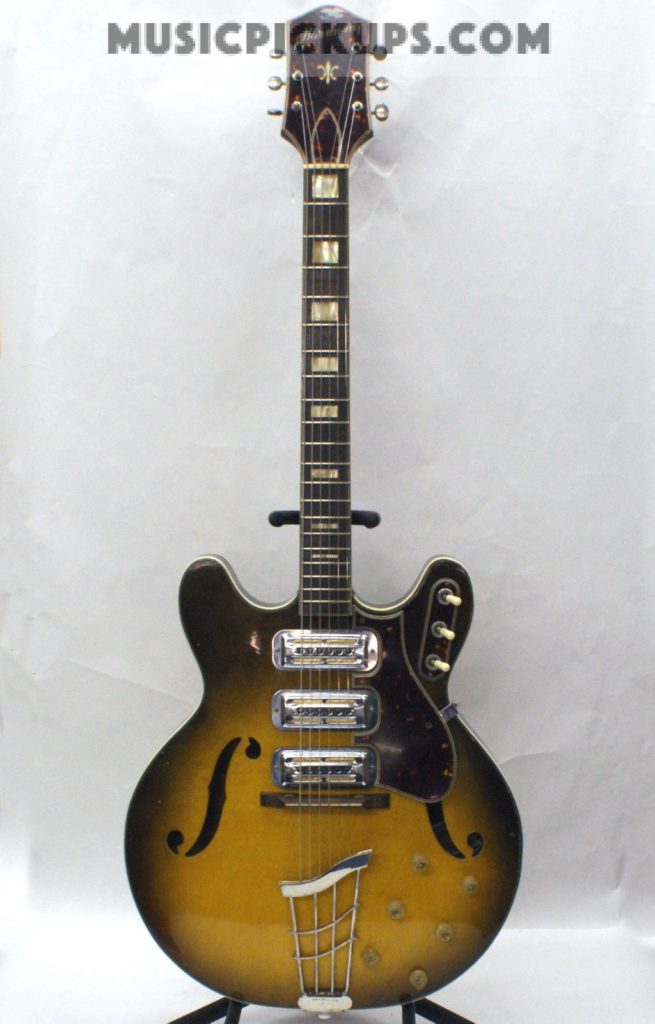 Harmony Model H75, 1960 (B0337)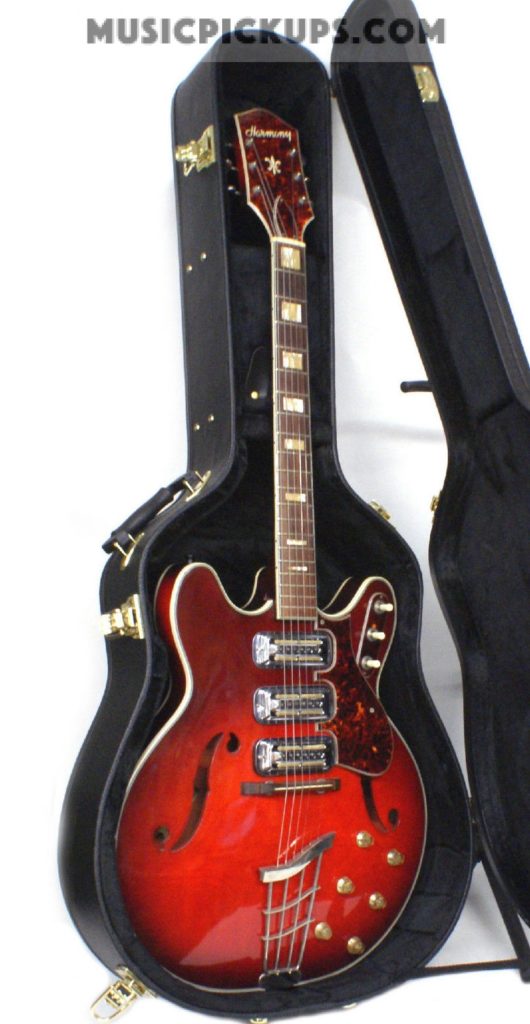 Harmony H77, 1964 (B0512)
Harmony H79, 1967, Example 1 (B0592 – photo copyright Mike and Mike's Guitar Bar, Seattle, WA.)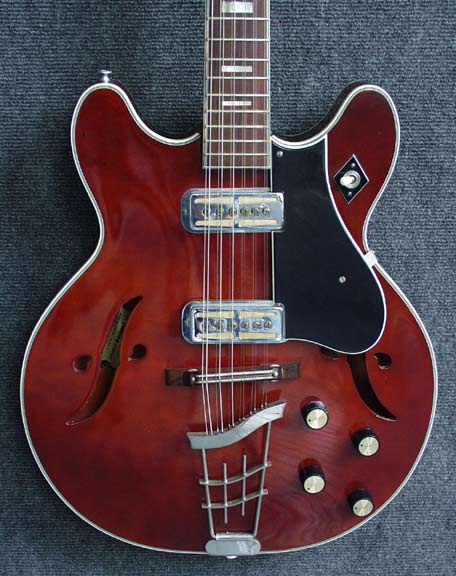 Harmony H79 12-string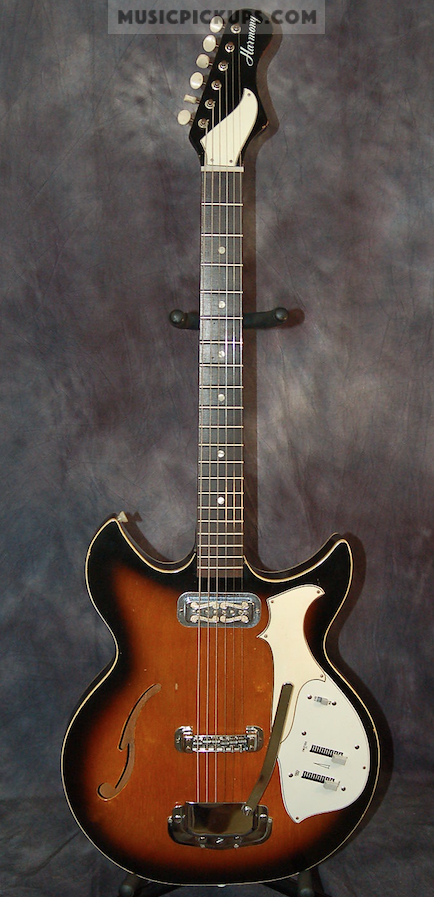 Harmony H81  Rebel, Sunburst, example 1, single pickup at neck, with tremolo, 1968-1971  (B0560 photo copyright Lawman Mike)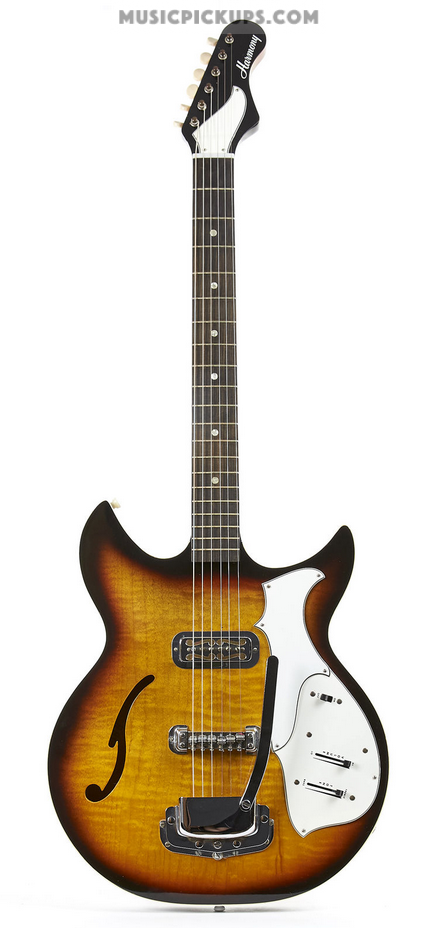 Harmony H81  Rebel, Sunburst, example 2, single pickup in middle position, with tremolo, 1968-1971  (B0570 copyright John, Cream City Music, Wisconsin USA)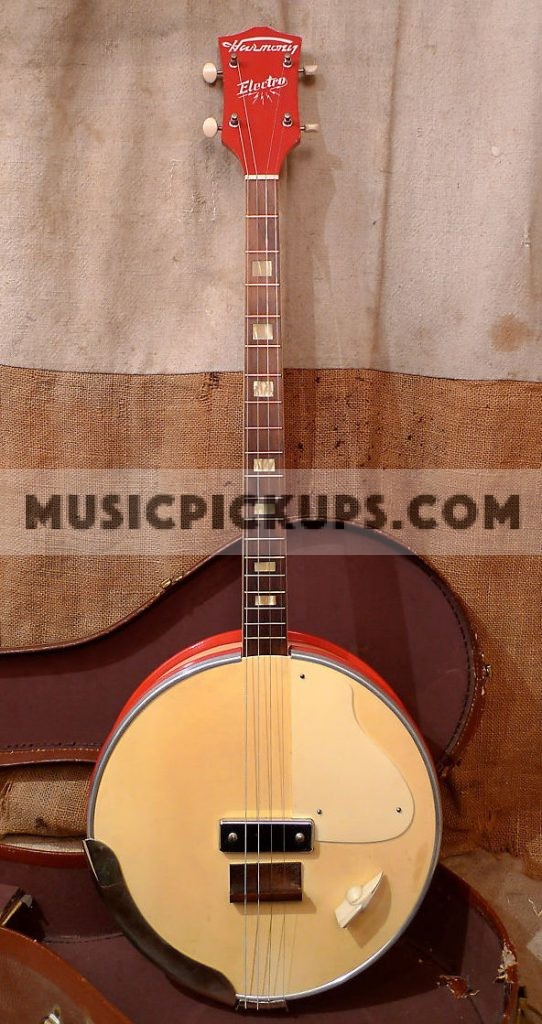 H82 "Electro' 4-string Tenor Banjo, 1956, w one plain Hershey Bar woodscrew-fixed pickup, B0568P  (NOTE: The ref. H82 was later assigned to the Harmony Rebel twin-pickup guitar).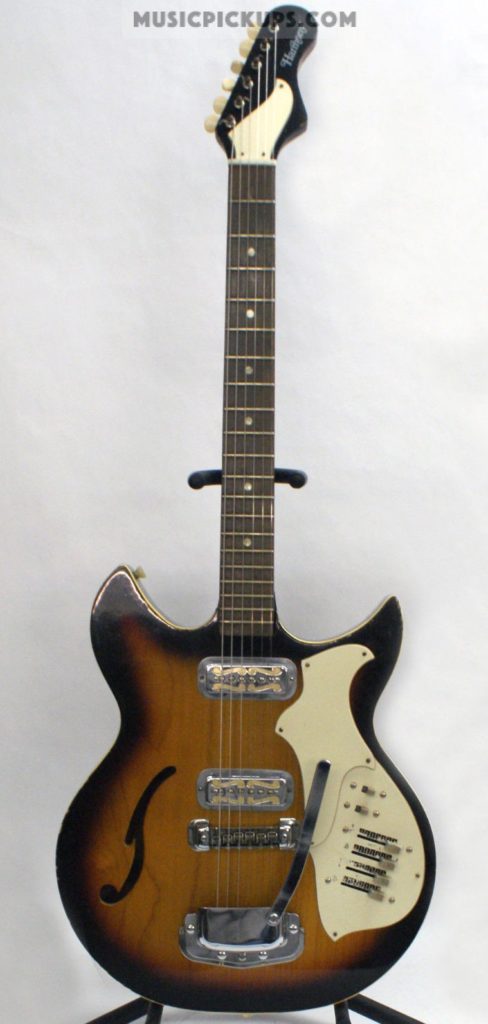 Harmony H82  Rebel, Sunburst, two pickups, with tremolo, 1968-1971  (B0418)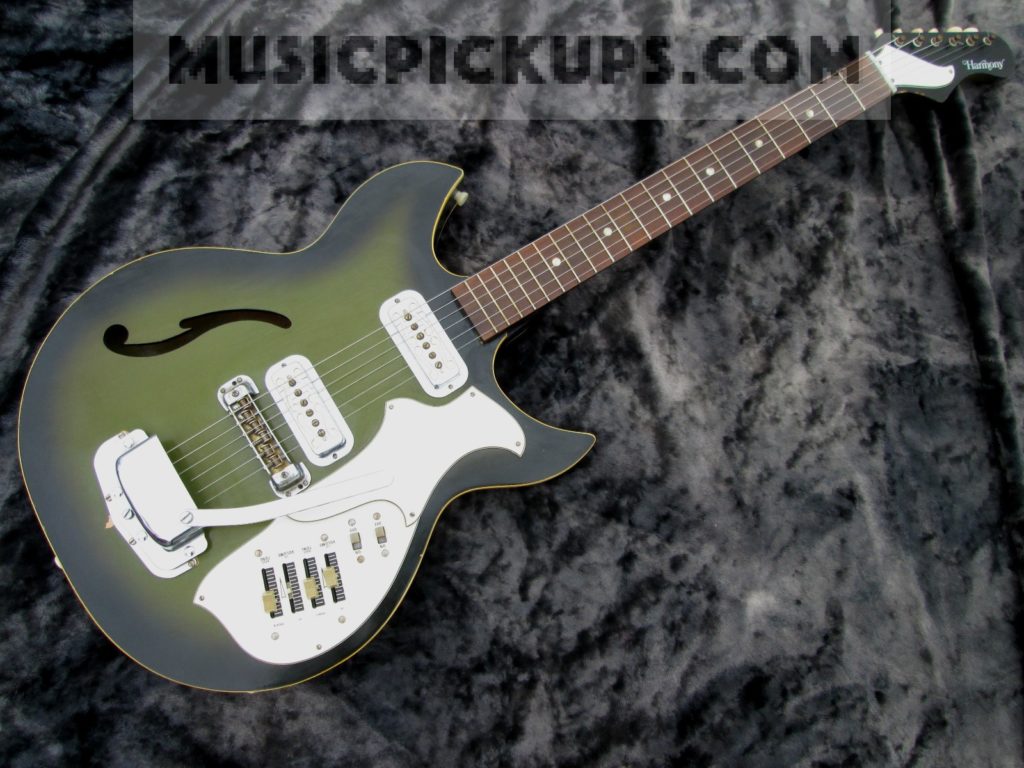 Harmony H82G  Rebel, Greenburst finish, twin pickups with tremolo, 1968-1971  (B0179)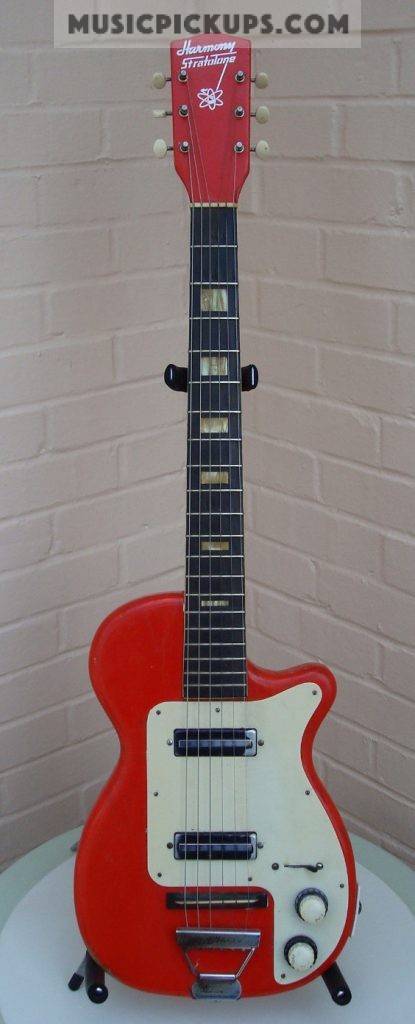 Harmony Stratotone H88, twin concentric volume and tone controls
Harmony H282 5-String Banjo, dated about 1955, with one plain "Hershey Bar' pickup, rivet-fixed.  Photo copyright Spencer Gorman.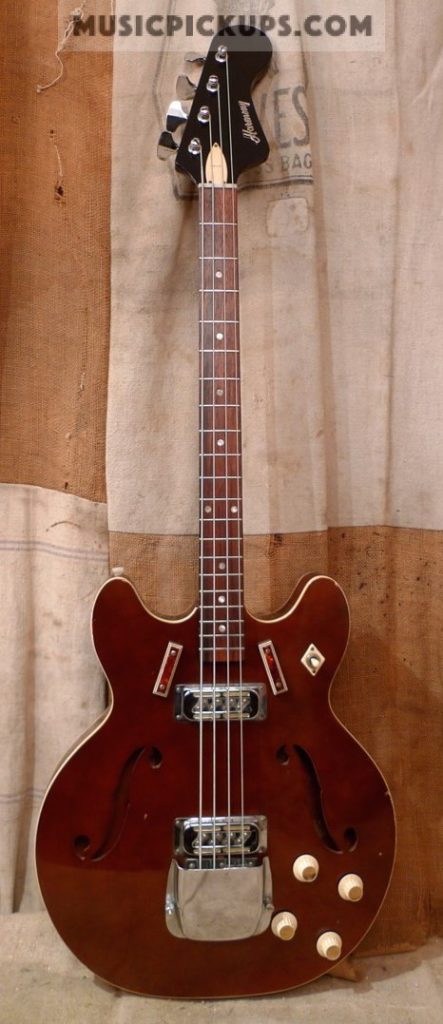 Harmony 420 Bass, 1972 (B0486)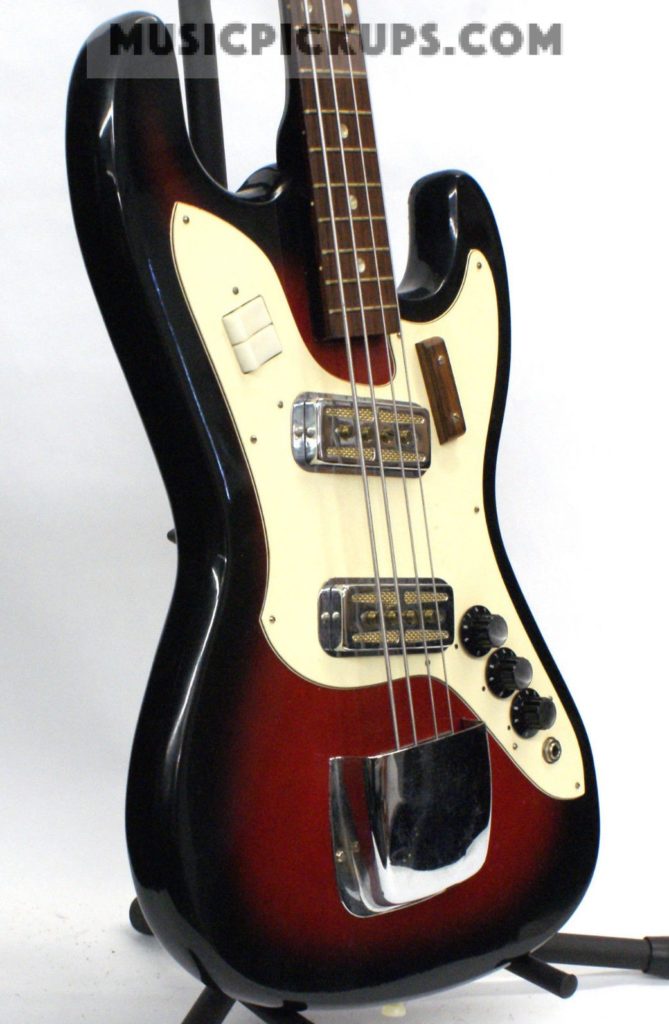 Harmony H426 Bass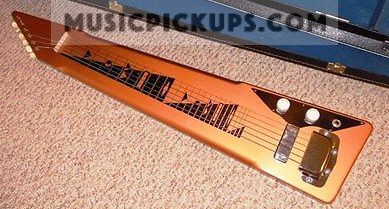 Harmony H601 Lap-Steel, 1970s (B0371)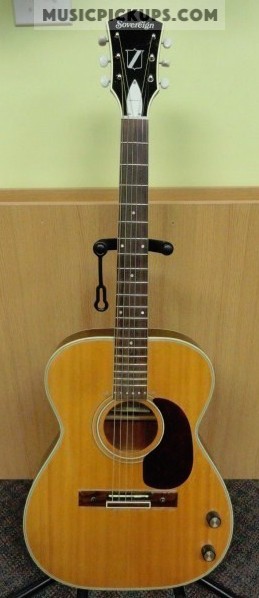 Harmony H655 Sovereign, 1972 (B0212)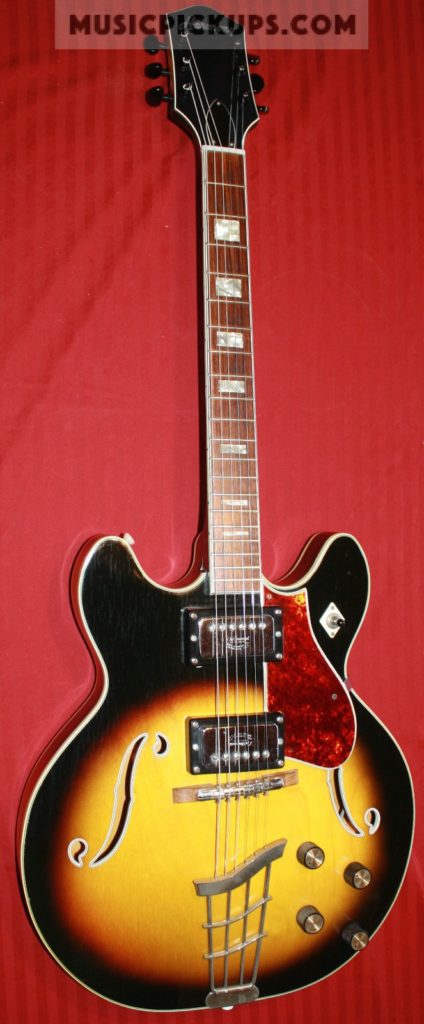 Harmony H661 Guitar, 1957,  with a set (Bridge and Neck) of 2 No. DeArmond Model 2200 Pickups with black plastic bezels (B0200)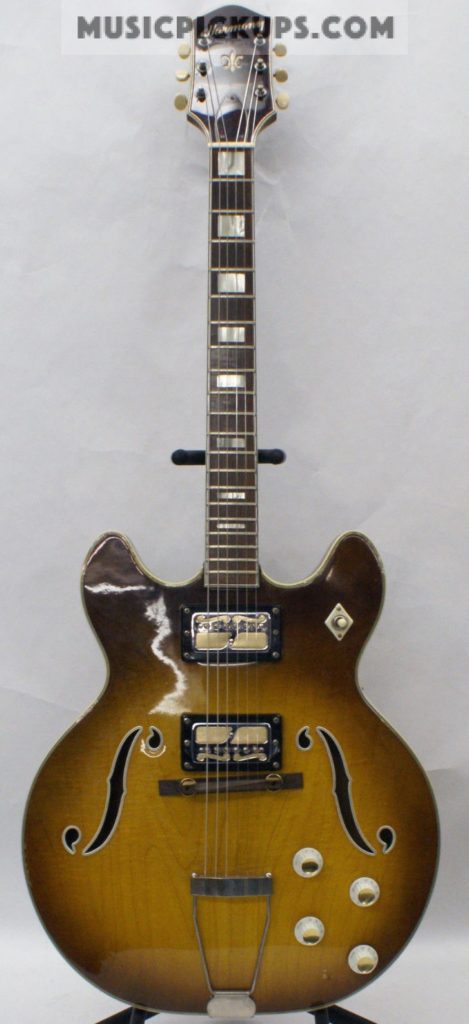 Harmony H671, 1973 (B0333)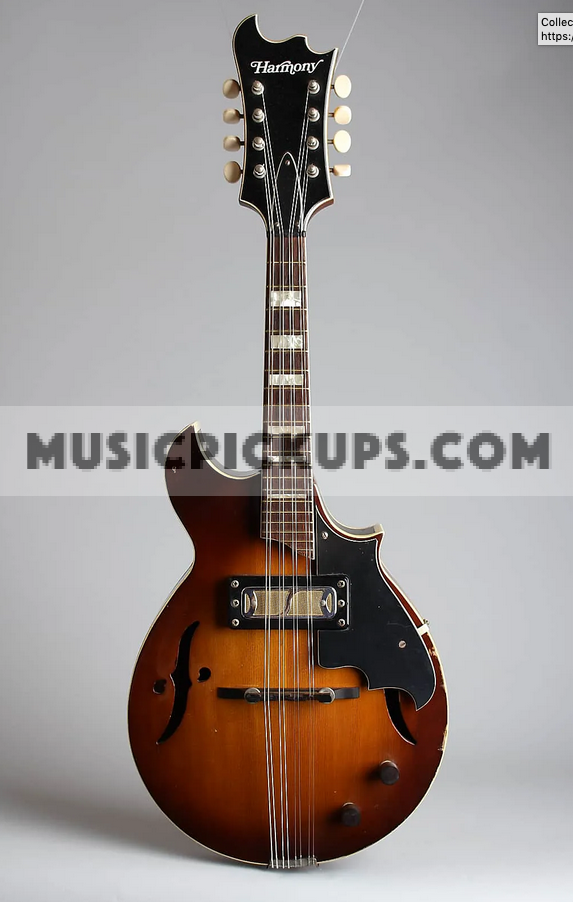 Harmony H835 baroque Mandolin, 1972 (B0586, Copyright Retrofret Vintage Guitars, Brooklyn).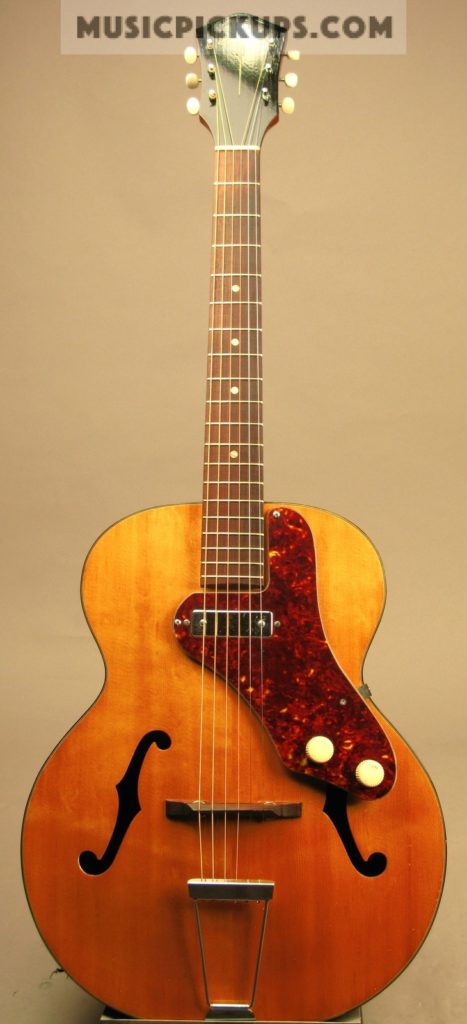 Harmony 1324 Also Silvertone 708 (B0240)