The Fred Gretsch Mfg. Co. was the first high-profile manufacturer to fit DeArmond pickups to their instruments when in 1949 they fitted the Model 2000 pickup in all of their electric models.  This arrangement continued until 1957, when CMI decided to fit DeArmond pickups in almost all of their range of Harmony guitars.  At this point, DeArmond's relationship with Gretsch ended.
Gretsch used gold-plated and chrome-plated versions with black coil formers.  They also used a four-string version of the Model 2000 pickup in chrome with a black coil former for some Tenor guitars.  This particular version used all of the normal components in a standard Model 2000.  The only change was that the holes in the coil former for the two outer strings (the 1st and 6th) were filled in after forming.  Traces of the two outer holes can be seen in the modified pickup.  See example below.
Gretsch literature referred to them as Dynasonic Fidela-Tone pickups.  This name was never used by DeArmond.  Gretsch's successful association with DeArmond ended only after DeArmond had signed an agreement with The Chicago Musical Instrument Company (CMI), manufacturers of Harmony and many other brands, to supply them with pickups.  When the Model 2000 pickup was first introduced, it was available in one height only – 7/16″ (11 mm.).  This meant that these pickups sometimes required a spacer when fitted at the bridge.  That spacer was manufactured from a type of semi-transparent faux tortoise-shell material, as shown below:
This Model 2000 pickup from a 1954 Gretsch instrument shows the distinctive faux tortoise-shell bezel and the transparent coil former (B0614 photos copyright Gibsondependables).
In their July 1965, 8-page purple catalog (Form 215), Rowe Industries introduced their Model 2000 pickups to the general public with two versions – a bridge version, Model 2000 T – with a metal frame height of 9/16″ ( 14.3 mm.) from flange to top of pickup.  The original pickup was then renamed the Model 2000 B, for installation at the neck.
Rowe Industries, the name of Bud Rowe's company at that time, was embossed into the underside of the coil former in these pickups.
Instruments featured below include: 1955 6115 Rambler guitar, Duo Jet 6128 tenor guitar; Duo Jet 6128 guitar; 6120 guitar; 1955 Chet Atkins 6120; 1957 Silver Jet 6129; Country Club Guitar; 1956 Firebird, 6131; 1957 Streamliner 6189.
Gretsch also manufactured a number of archtop guitars under the Bacon Belmont name fitted with Model 2000 pickups.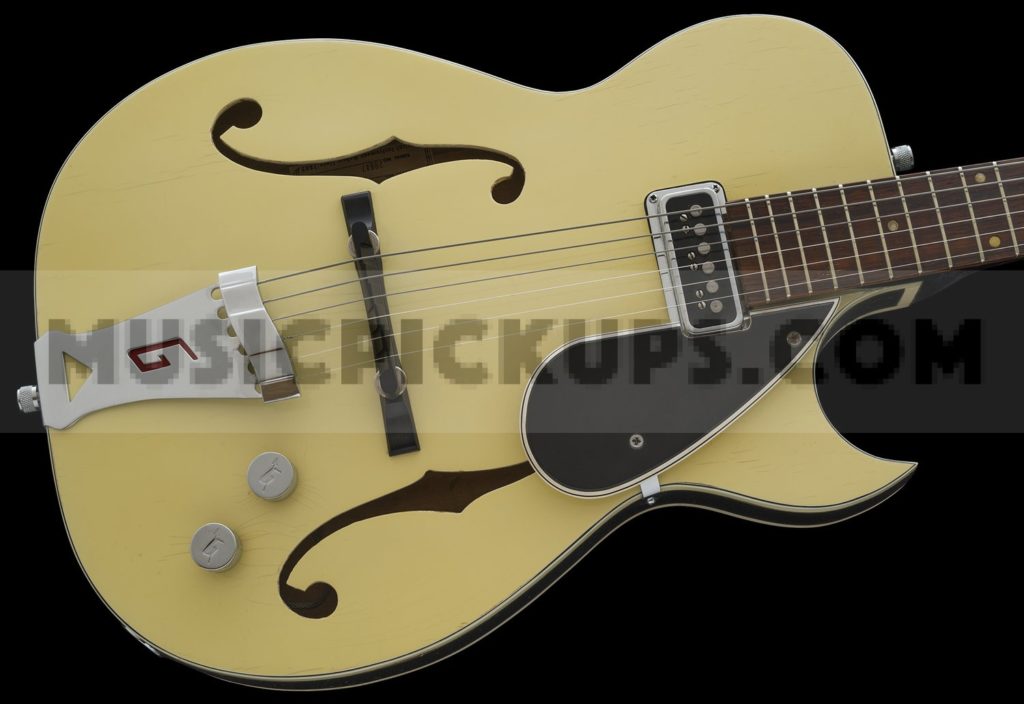 1958 Gretsch 6115 Rambler guitar, in Lotus Ivory finish (photography by Albert Molinaro, Eliteguitars.net  B0579)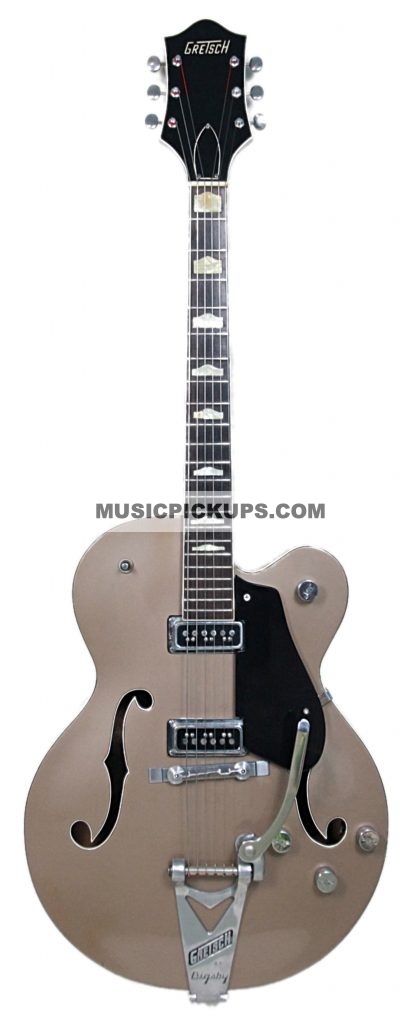 Gretsch 1957 Streamliner (B0958  – photo copyright philsvintageguitars.com Thame, Oxfordshire, United Kingdom)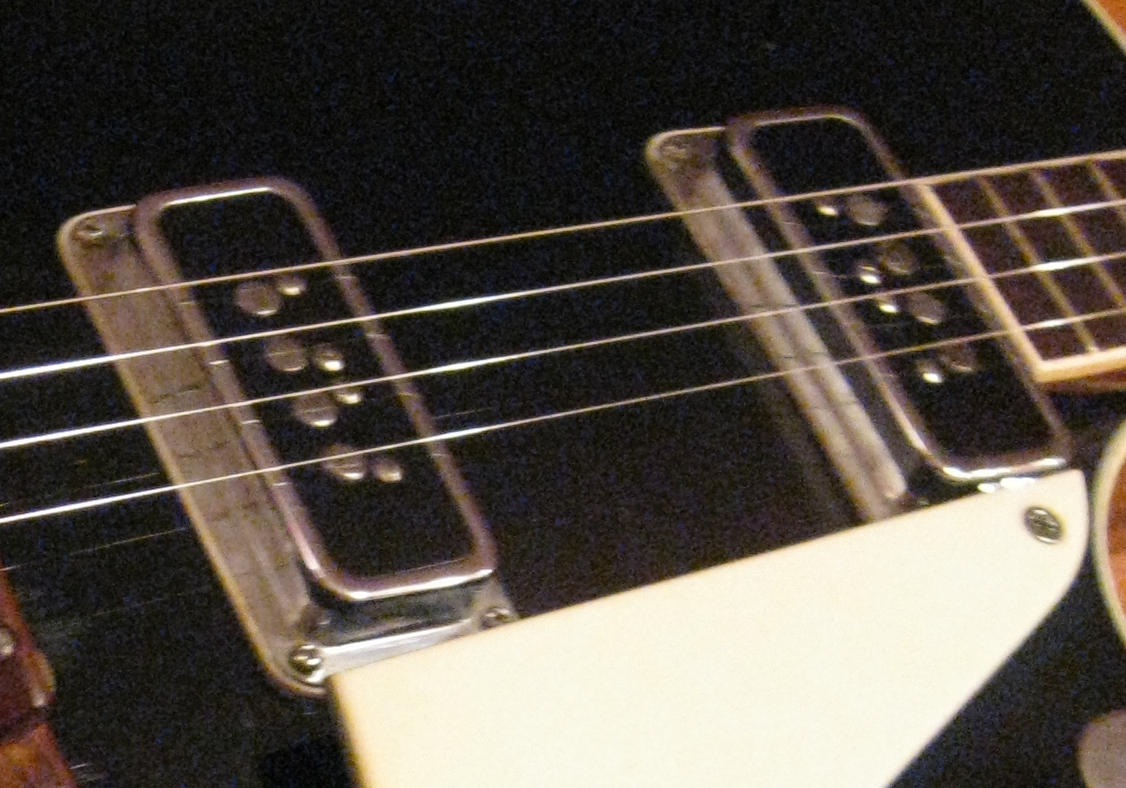 In the mid 1950s, Gretsch produced a small quantity of solid-bodied Electric Tenor guitars based on the Duo Jet 6128, each fitted with two four-pole versions of the Model 2000 pickup in chrome with black coil formers, as seen here (B0070, photo copyright Tommy Tucciarone)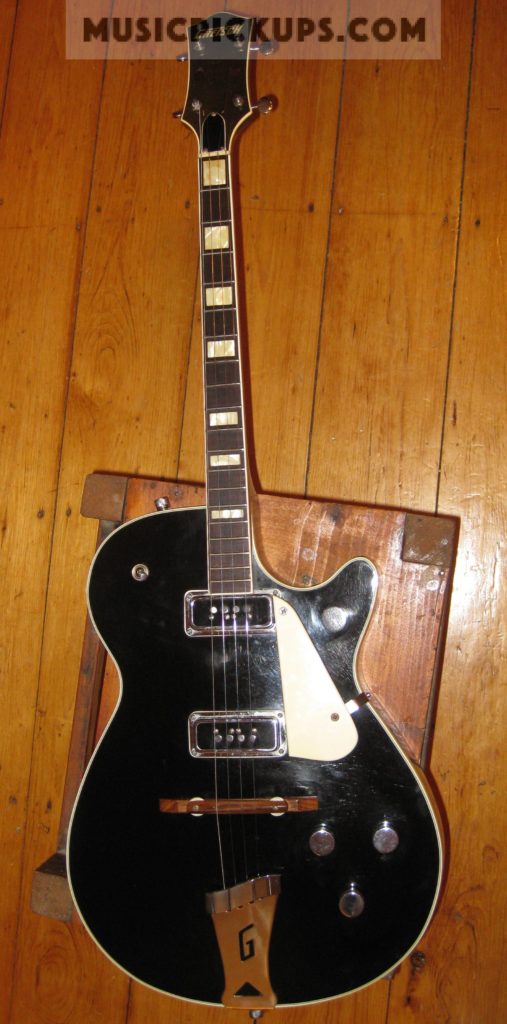 Gretsch Duo Jet Tenor guitar Model 6128 with two 4-pole versions of the  Dynasonic Fidelatone pickup.  Both pickups are the same height. (B0070)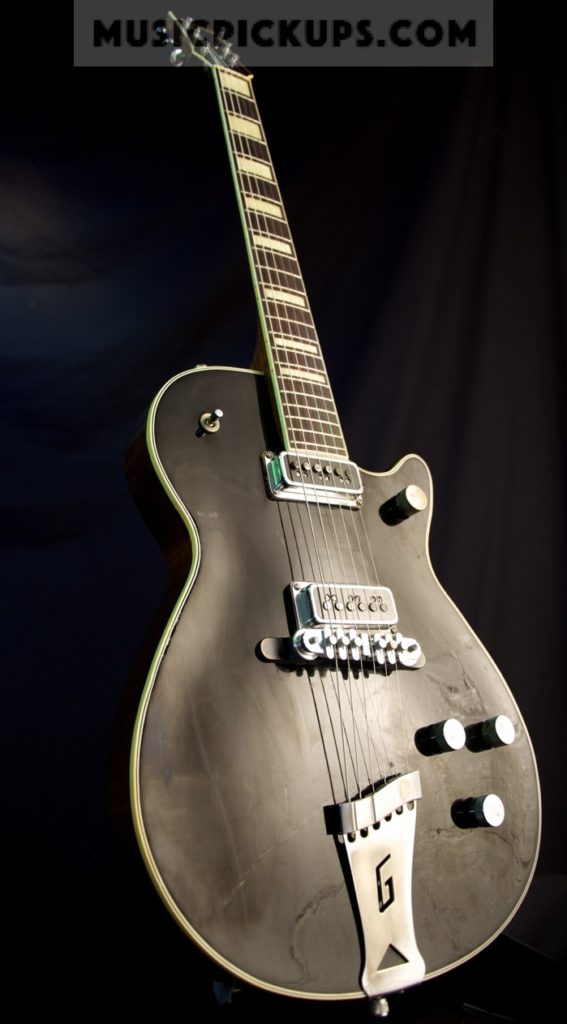 Gretsch Duo Jet 6128 dated 1955 with equal height pickups.  Note the raised bridge pickup. (Photo copyright Gearlicious B0251 grlc991)
Gretsch 6120 guitar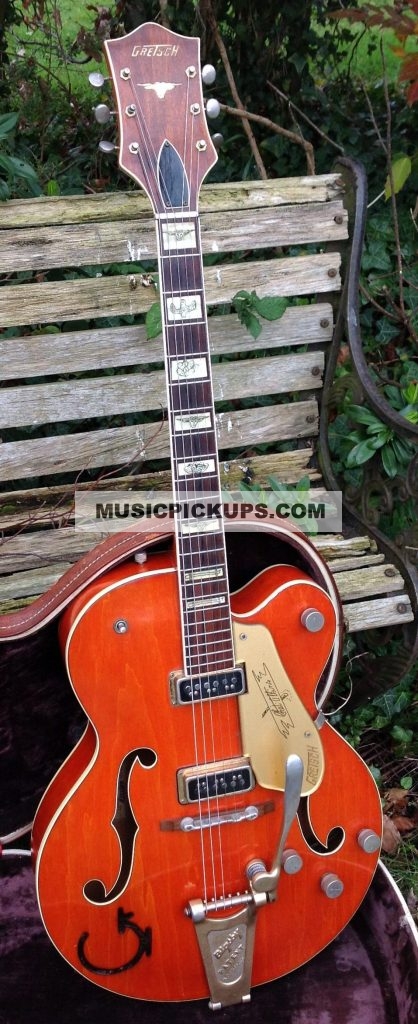 Gretsch 6120 guitar, 1955, Chet Atkins (B0595 – photo copyright philsvintageguitars.com Thame, Oxfordshire, United Kingdom)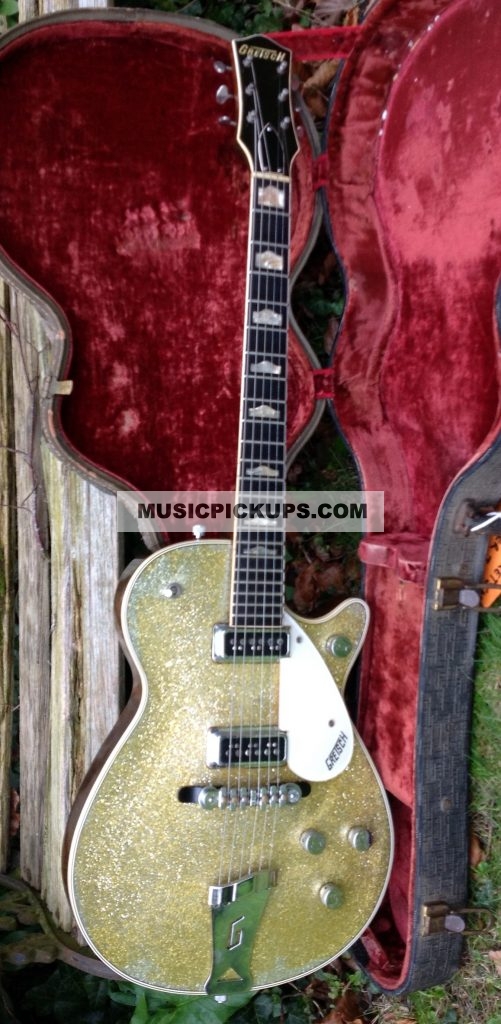 Gretsch 1957 Silver Jet 6129 (B0957  – photo copyright philsvintageguitars.com Thame, Oxfordshire, United Kingdom)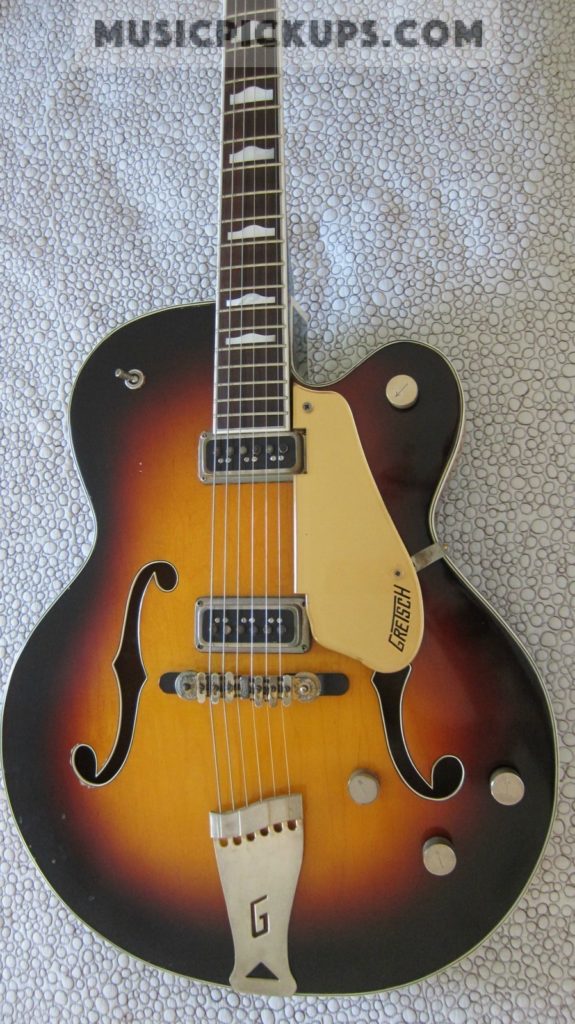 Gretsch Country Club Guitar, 1956 (B0263)

Gretsch Firebird, 6131, 1956 (B0603  – photo copyright philsvintageguitars.com Thame, Oxfordshire, United Kingdom)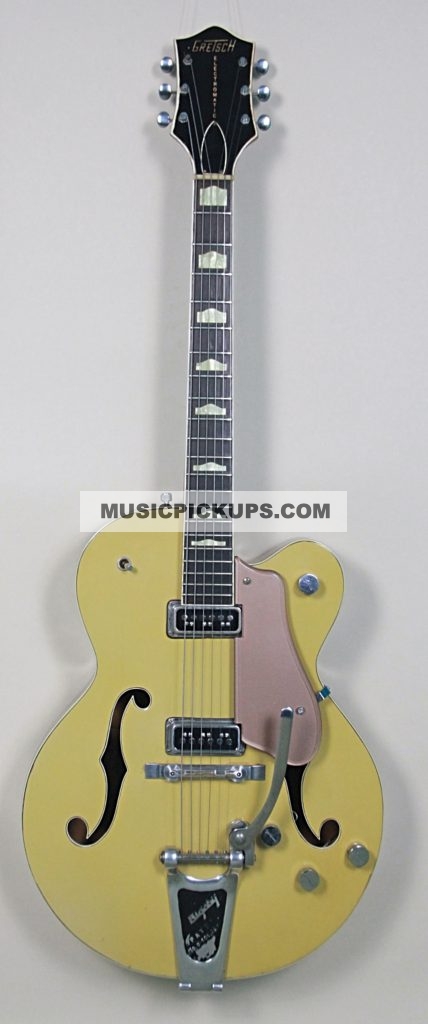 Gretsch Streamliner 6189, 1956 Bamboo/Copper Mist (B0596  – photo copyright philsvintageguitars.com Thame, Oxfordshire, United Kingdom)