Page last updated January 15, 2021.
Three examples of this particular brand, with a 'spaghetti-style'  Deane logo, have been seen so far, but no verifiable information is presently available in the public domain about the company or people.  Some instruments became available in an estate sale when the Colorado Music Co. based in Denver, closed.  One as yet unconfirmed report shows the luthier as Deane Hahn.  The pickups and wiring harnesses are by Rowe DeArmond and the machine heads are by Kluson. Several parts were also in that estate sale, many wrapped in a 1996 newspaper.
The information on the headstocks states 'Deane, Manuf. by Colorado Music Co. Denver, Colo.' and the Model number – 400 or 500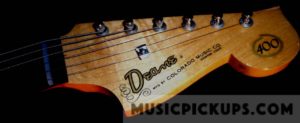 The distinctive headstock.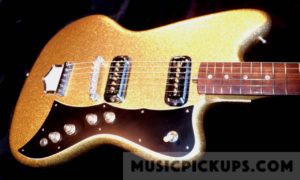 (Photo above copyright tuneyoursound)


All pickups shown are DeArmond Model 55, except for the sunburst 400 which has a Model 41 at the neck.  The bridge pickups only are mounted on shallow timber bases.  The knobs (except for two replaced knobs in the sunburst example) are all transparent conical DeArmond.  The wiring harnesses were purchased directly from Rowe DeArmond and the pickups were rubber stamped 1966.