December 18, 2020.
Over tewo hundred and fifty music-related products were manufactured by the various DeArmond companies over more than four decades.
In order to verify the date of manufacture for guarantee purposes, some products had their production date (month, day and year) rubber-stamped or handwritten internally during manufacture.  The date format was mostly Month/Day/Year, as shown below.  The rubber-stamped items included FH pickups and effects pedals.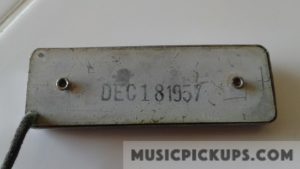 A rubber-stamped Hershey Bar pickup, clearly Month/Day/Year.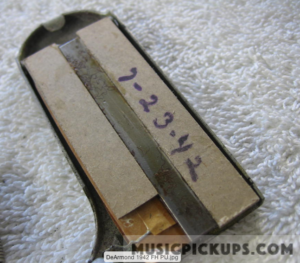 A handwritten date inside an early FHC pickup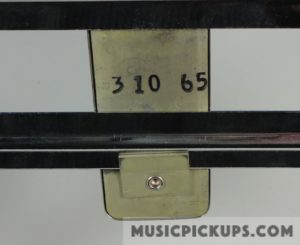 A rubber-stamped Hershey Bar pickup, Month/Day/Year.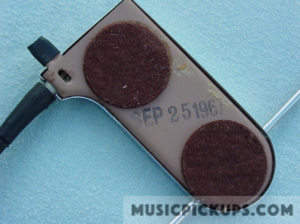 A rubber-stamped FHC-C pickup.
Other products, including some Model 1000 and 1100 Rhythm Chief pickups and 'Hershey Bar' pickups, were similarly rubber-stamped on their underside.
Some FH pickups had the last two digits of the year of manufacture stamped on the small metal tab normally covered by a black plastic sleeve.   The FH pickup's cover can be removed easily with some care, as it is a push-fit and not soldered or glued in position during assembly.
The Company name was also stamped on the underside of some products and while not as accurate as a precise date, this at least establishes a period.  See Company History page for more information on Company name evolution.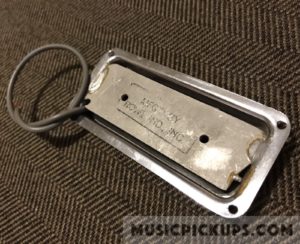 'Rowe Industries', rubber-stamped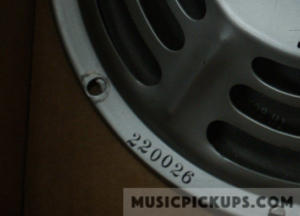 A Jensen speaker ref. SP-5403, with rubber-stamped EIA Code 220 (for manufacturer – Jensen), 00 (for year of manufacture – 1960) and 26 (for the week of manufacture).
The Electrical Industries Alliance (EIA) was an organisation which operated from  1924 to 2011 to establish a system of codes for electrical products.  In addition to the code number identifying the manufacturer,  a code for the date of manufacture was included.  Sometimes a third code, usually the manufacturer's batch code, was also included.  Pots also showed their resistance value with a code to indicate whether it was linear or log.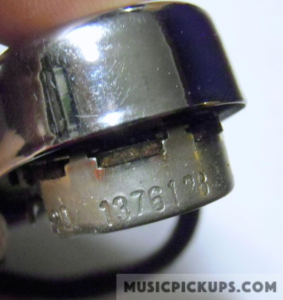 The code above, 1376128, on a Volume Controller from a Model 40 pickup, shows  137 for the manufacturer, CTS, the year 61 for 1961 and the week of manufacture as 28.
The EIA codes which have a relevance for Rowe-DeArmond products mainly include speakers (Jensen), pots (Centralab, Allen-Bradley, CTS and Stackpole) and transformers and are included in the lists shown below.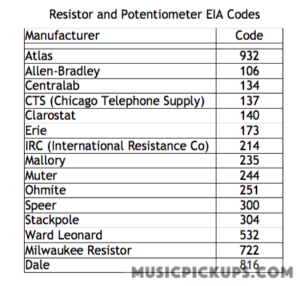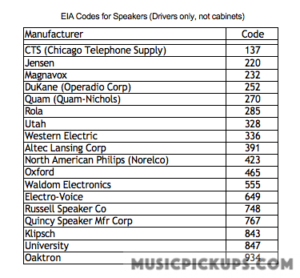 DeArmond produced many catalogs, Installation Instructions Sheets and Schematics for their products.  Of those found so far, most have printed dates between 1941 and 1984.  The small amount of undated literature has been dated to within a few years, by cross-checking DeArmond's own price lists, music products suppliers' catalogs, the company's address and advertisements.  The dates of the company's name changes, which are known precisely, have also helped in this process.  However, a small number of items still require precise dating.