This page updated July 27, 2022.
The various DeArmond companies used a wide range of control knobs on their products. These knobs may sometimes be required when repairing or renovating DeArmond products, but identifying them can be a problem. It is hoped that the following photos and sketches may help in this process.
The DeArmond companies also manufactured and supplied complete wiring looms with pickups, switches, jack-sockets, potentiometers and knobs to almost all of their musical instrument manufacturing customers.  An example of such a loom for a Fender Coronado guitar is shown in the three photos below, of an all-chrome pickup set.  Note the flexible spiral conduit commonly seen in Harmony and other CMI instruments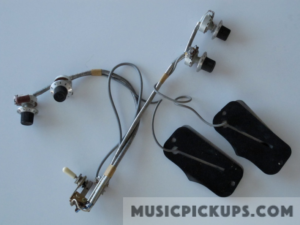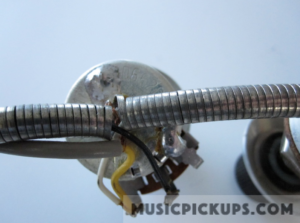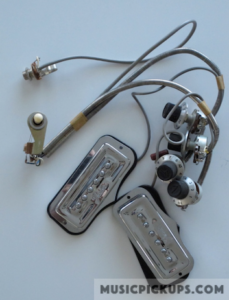 The potentiometers used had a number of different shaft or spindle types as follows: 1/4″ plain, 1/4″chamfered, 1/8″ split and chamfered and 1/4″ knurled with either 18 or 24 splines.  The knobs required for each of these shaft types are not readily interchangeable.
Control knobs as used in DeArmond's numbered products are shown below, generally in chronological order.